A Claire winner
Thursday, 1st June 2000.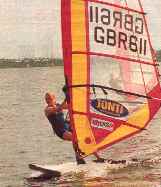 CLAIRE Gaskell has recorded her first victory on the international circuit.
The in-form Linton teenager triumphed at an incident-packed North Sea Cup event in Ostend after encouraging performances in Holland and at Southsea.
But the 17-year-old sixth form student at Netherhall School, Cambridge, only realised she had won her first Olympic Class event when she was called up to receive the handsome metal trophy.
Gaskell (pictured left), a member of the RYA British Youth Squad and the Jonti team from Grafham Water, needed to be alert when racing started on the second day.
There was confusion at the start when the starting sequences for the different classes were changed at the last minute and the usual sound signals were not given.
But, after positioning her Mistral board, close to the start line, Gaskell noticed the French Olympic class windsurfers make a break and, realising the signal must have been given, set off after them.
The move paid off, and only Dorothee Wargnez beat Gaskell, who finished well clear of French youth squad rivals Helene Fournier and Amelie Zommer.
Determined not to be caught out in the second race, most of the field started before the gun and two — Gaskell and world youth champion Marie Riffault — got all the way upwind to the top of the course before the race officials' powerboat caught them and called them back.
Riffault made a good start at the second attempt, while Gaskell wallowed mid-fleet before the wind changed direction and strengthened, giving her the chance to work her way past Dutch, Belgian and French competitors.
She moved into third place when Jessica Ash from Basingstoke briefly dropped her sail, and, after a neck-and-neck battle over the next lap, judged the strength of the tide perfectly to race clear when Ash slowed to make a tight turn.
Gaskell — grant supported by the RYA, the UK Sailing Academy, Sports Aid Foundation and South Cambridgeshire District Council — took advantage of better wind quality to storm home in a 25mph sprint to the finish, finishing behind Catherine Potter (Nottingham) and Riffault.

Comment on this story
[board listing] [login] [register]
You must be logged in to post messages. (login now)