About Haverhill
Haverhill might well date back to pre-Roman times, but this forward thinking, rapidly developing town is very much part of the 21st century.
Where is Haverhill?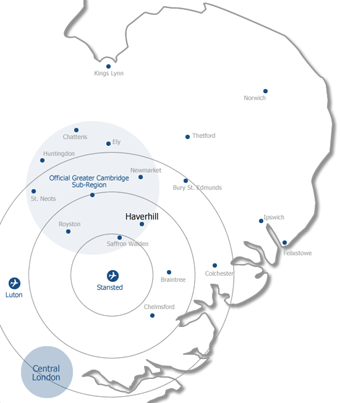 Haverhill is approximately:

Haverhill is part of the official Greater Cambridge Sub-Region.
Click the Icon below to
find Haverhill on Multimap.



Town Centre Map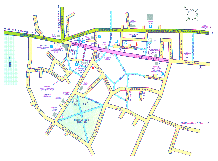 Click on the PDF icon to open a detailed map of the town centre.
This map can also be found in the 'Welcome to Haverhill' brochure, which is available at the Haverhill Library.
The History of Haverhill...

Haverhill-UK contains many articles about Haverhill and its history.
See our History Pages for more information.
Over the past years people who have visited the Haverhill web site have sent in emails with their memories of what Haverhill used to be.
Click below for an interesting personal insight into Haverhill's past.
Haverhill Photo Library
Other Haverhill's
Haverhill in New Hampshire in the USA

Welcome to the official Web Site for the Town of Haverhill, New Hampshire (which includes the precincts of Woodsville, No. Haverhill, Haverhill Corner, and Mountain Lakes).
Click Here to Visit
City of Haverhill Massachusetts in the USA

Launched in February of 2003, this site contains information on all city departments and city resources.
Another web site for Haverhill Massachusetts

This Haverhill Massachusetts web site provides useful, reliable and up-to-date information about Haverhill for its residents, neighbors and visitors to explore and enjoy.
Click Here to Visit
Another web site for Haverhill Massachusetts

The city of Haverhill was founded in 1640 and is located in Essex County which today is a city of 52000 and has kept its characteristics of a home town through out New England.
Click Here to Visit
Haverhill, Massachusetts Picture Tour

This site has loads of pictures of Haverhill MA, and also includes a guest book.
Click Here to Visit
Haverhill Town, Florida, in the USA

This site for the town of Haverhill Florida has information about town events, businesses and the Mayor and Council.
Click Here to Visit
Did You Know?
Haverhill is the second biggest town in the Borough of St Edmundsbury.
(Bury St. Edmunds is the biggest !)
Haverhill is a town with a population of approximately 22,000.
60's soap opera 'The Newcomers' cast Haverhill as 'Angleton New Town'.

More >>>

Haverhill Town is twinned with two other towns in Europe
Pont St. Esprit in France and Ehringshausen in Germany.
We Need You!
We would love anyone to contribute to the contents of this site.
Could you write an article about the history of Haverhill ?
Do you have any old photographs of Haverhill ?
Do you have any interesting (or otherwise) facts about Haverhill ?
Do you have any ariel photographs of Haverhill ?

If you have anything you would like to contribute to this site please contact Haverhill-UK

Your help would be greatly appreciated, and you would be credited on the site for your work.