Entertainment & Leisure in Haverhill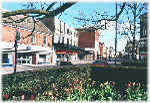 Haverhill offers a busy, part pedestrianised town centre with major high street retailers and a large number of local shops, businesses and a regular market that supplies the needs of the town and the surrounding district.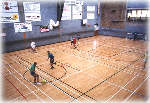 Leisure facilities include a magnificent Arts Centre (which acts as a theatre and cinema) and a well-equipped Leisure Centre, Nightclub and Ten Pin Bowling Alley. For more specific information about what Haverhill has to offer, please make a selection from the options on the left.
The Haverhill Festival

is an annual event funded by the Haverhill Town Council. It runs for two week in June and brings together a unique mix of music, film, comedy, dance, drama and community events. With many of the events being free to attend, the Festival maintains its original aspirations of being a community led celebration, promoting leisure and arts activities, encouraging and providing opportunities for participation and adding to the quality of cultural life in Haverhill.
Other Entertainment & Leisure Activities Include :