Matthew Hancock - Your Local Member of Parliament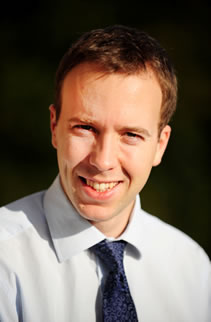 Matthew Hancock, MP for West Suffolk, is your local MP in Haverhill. He was elected by the people of West Suffolk on 6th May and has been working hard for the people of Haverhill ever since.
If you would like further information about Matthew's campaigns and activities as your MP, please visit his website:
www.matthewhancock.co.uk
"It is an honour and a privilege to represent Haverhill in parliament. Haverhill is a great place to represent as there is a sense that this town is on the up. Whenever I'm in Haverhill people are always talking about the future. Of course there are problems we need to address, and I will work tirelessly to do so, but with the new businesses that have moved to the town, and the modernisation of the town centre Haverhill is changing for the better.

There are countless people here who care deeply about the town and its people, and who are dedicated and committed to it. This is why I am looking forward so much to representing Haverhill, I hope, for many years to come.

I am keen to continue the great work that was done by the previous Member of Parliament, Richard Spring. I would encourage anybody, therefore, who does have a problem or concern or just wants to highlight an issue with me to please visit my website and get in touch. I shall always try my very best to help."


Above text supplied by Matthew Hancock
Matthew Hancock in Haverhill News :