A new way of talking to the community
Friday, 21st May 2010.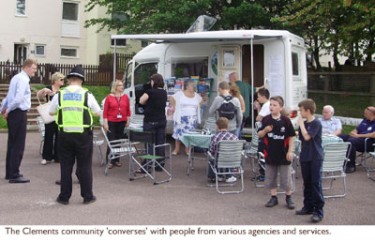 Agencies who blitzed the Clements estate in Haverhill on Wednesday morning, cleaning up, checking up and giving advice, involved residents in having a chat about it this afternoon (Friday).
The Impact event on Wednesday involved Suffolk County Council, St Edmundsbury Borough Council, Suffolk Fire and Rescue Service, Trading Standards, Suffolk Police, Environment Agency, Havebury Housing, VOSA, DVLA and HM Revenues and Customs.
Some of them, including the councils, the police and Havebury set up a 'community conversation', led by Suffolk County Council, outside the Leiston Centre from 3-6pm.
Tea and cakes were on offer to people who wanted to talk about any of the issues the Impact event raised, or any other ways in which the agencies could make a real difference to the area.

Comment on this story
[board listing] [login] [register]
You must be logged in to post messages. (login now)