A whole lot of love flows around Haverhill businesses
Monday, 21st February 2011.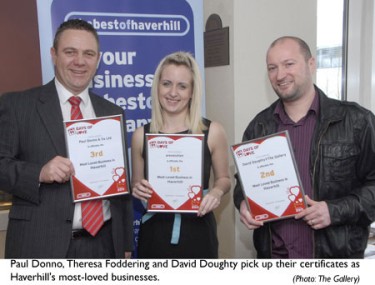 Marketing company thebestofhaverhill has been helping to spread the love for local businesses over the past two weeks as part of the '14 Days Of Love' – a national campaign being run by thebestof.
The campaign, now in its second year, aims to encourage local people to 'show some love' for local businesses during the run up to Valentine's Day.
Testimonials are posted on 'thebestof' websites around the country in support of local businesses. The campaign ended at midnight on Valentine's Day and the most loved businesses can now be revealed.
Elaine Carr, owner of thebestofhaverhill, said: "It is obviously easier for some businesses to receive testimonials from their customers than for others.
"For this reason part of the campaign focuses on the most popular business categories on thebestof and identifies the most-loved businesses nationally within those categories based on the number of testimonials they have received.
"For a small town Haverhill did really well with four of our business members in the top five most-loved businesses in their categories. It just goes to show that although Haverhill is a small town it is full of talent!"
The winners were presented with certificates acknowledging their success at the recent bestofhaverhill event at Days Inn Haverhill.
Based on the number of testimonials received CXG Property Services is the second most loved letting agent in the country. CXG is loved by its clients for being professional, helpful and offering outstanding service. Andy Pantling from CXG accepted a certificate on behalf of the company.
Arevolution beauty sanctuary is the fourth most-loved beauticians in the country. Theresa Foddering and her team are really loved by their customers who feel they are always assured of a warm and friendly welcome as well as a professional service.
Jennifer Bradnam from Travel Counsellors is the fourth most-loved travel agent and holiday company in the country. Jenni's clients know that she will go the extra mile to ensure their holiday is hassle-free and that, wherever they go in the world, and whatever happens, Jenni is there to sort it all out, offering real peace of mind.
Paul Donno & Co Ltd came in as the fifth most-loved accountant in the country. For some of the 14 days of the campaign the company were actually the most-loved accountant in the country. Their clients love the fact that they can ask any question whatsoever without ever being made to feel stupid!
The most-loved business in Haverhill, receiving a total of 141 testimonials from March 1 to February 14 is arevolution. In second place with 66 testimonials is local photographer David Doughty@The Gallery and in third place with 44 testimonials Paul Donno & Co.
The final word goes to Theresa Foddering from arevolution: "We really took the 14 days of love to heart and were determined to win the title of most-loved business in Haverhill and get into the top five beauticians in the country.
"We pride ourselves on offering a warm, friendly service combined with an extensive range of treatments that is continually updated as new products and techniques come onto the market.
"We listen to what our clients want and try to ensure we satisfy their requirements. I would like to thank all our clients for taking the time to share their love with us and helping us to be success in this campaign.
"We now have our sights set on the Haverhill Chamber of Commerce business awards and are aiming to win another award this year to accompany our Retailer of the Year Award which we won in 2008!"

Comment on this story
[board listing] [login] [register]
You must be logged in to post messages. (login now)