Academy's gardeners gain top RHS award
Wednesday, 9th October 2013.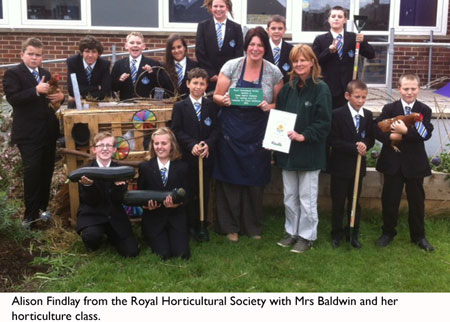 Horticulture students from Castle Manor Academy and their teacher Mrs Baldwin, are celebrating achieving the highest award for school gardening from the Royal Horticultural Society.
Alison Findlay from the RHS has been working with the academy to deliver projects and training using their newly-developed kitchen garden.
In the past year students, parents and the community have put together many aspects to the successful garden projects at the academy.
There is a sensory garden, harvest hedgerow, herb garden, dry grass garden, orchard, kitchen garden, butterfly garden, bug hotel, willow tepee and chicken share scheme.
Students and staff regularly use the garden with its colourful benches for meeting at lunchtime and to develop outside learning opportunities.
Mrs Baldwin is pleased with the projects undertaken so far and is keen to push things further by growing more produce, encouraging enterprise.
Her long-term vision is to create a smallholding or allotment to provide more opportunities for the academy and the community to grow their own food.
Castle Manor Academy was recently nominated a flagship school for school gardening and the academy now offers professional training to other teachers in Suffolk.
Mrs Baldwin would like to thank local companies who have sponsored various aspects of the gardens at Castle Manor, Paugers Plants who have supplied many of the plants and to the RHS who have been a valuable source of information and support.
If you'd like to take a look around Castle Manor Academy and see how these learning opportunities fit in with the broad and robust curriculum on offer you can contact the academy on 01440 705 501 to arrange a tour during the academy day.

Comment on this story
[board listing] [login] [register]
You must be logged in to post messages. (login now)