Academy students promote good pet ownership
Wednesday, 7th May 2014.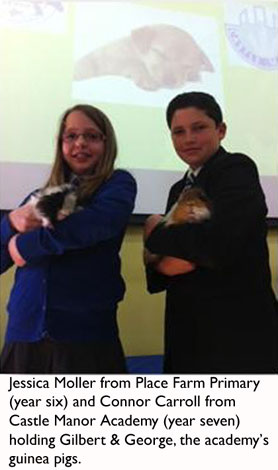 Students from Castle Manor Academy have been delivering assemblies to local primary schools as part of their partnership work for National Pet Month.
The assemblies have taken place at Burton End, Place Farm and Clements primary schools with the aim of promoting responsible pet ownership.
Phil Sketchley, chairman of National Pet Month, said: "We're delighted that Castle Manor Academy students have taken such a proactive approach to deliver these important assemblies.
"They are showing younger students how pets can be our companions at all stages in our lives and that we need to look after them responsibly to keep them healthy and happy."
Castle Manor Academy has a well-established eco committee that cares for the academy pets which have been rehomed from animal rescue centres.
Mrs Baldwin, teacher and leader of the garden project, is committed to teaching responsible pet ownership as part of enrichment and outside learning opportunities.
Castle Manor Academy's green ethos was recognised recently when they were awarded the Suffolk's Greenest School Award last month.
Their Top Ten Tips for Responsible Pet Ownership are:
1 Think carefully before getting a pet and learn about its special requirements.
2 Ensure your pet is sociable and well-trained.
3 Provide a nutritious and well-balanced diet.
4 Provide suitable housing and bedding.
5 Clean up after your pet and worm it regularly.
6 Protect against disease. Your vet can provide you with advice.
7 Prevent unwanted litters and neuter your pet when appropriate.
8 Groom your pet regularly.
9 Control your pet and ensure it is properly identified.
10 Take out pet insurance for dogs, cats, rabbits and horses to cover against unexpected veterinary fees and third party liability.
Others looking to get involved with National Pet Month or register an event of their own should visit www.nationalpetmonth.org.uk
Castle Manor Academy's animals form a key part of their outside learning area which is constantly growing and facilitating excellent experiences for students.

Comment on this story
[board listing] [login] [register]
You must be logged in to post messages. (login now)