Accountants take on £10,000 charity challenge
Monday, 1st February 2010.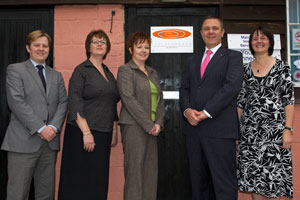 An accountants and business advisers from the Haverhill area will be attempting to raise £10,000 during the year for charity, in memory of a client and friend.
Paul Donno & Co Ltd have announced they are to hold a fund raising campaign to run throughout 2010 in support of St Nicholas Hospice Care.
The campaign is in memory of Denise Sheridan who lost her battle against breast cancer in October 2009.
Denise ran the Clare Physiotherapy and Sports Injury Clinic and had been a client of Paul Donno & Co Ltd for many years.
Paul Donno said: "Denise was not just a client she was a great friend to all of us. When I was refereeing rugby matches for the Rugby Football Union, Denise would fix my aches and pains. She had a great sense of humour and generally had a laugh at my expense.
"Denise received wonderful care from St Nicholas Hospice Care before she passed away and we all felt that raising money for the Hospice in her name would be a fitting tribute."
Paul is no stranger to fund raising - he took part in the London to Paris Bike Ride in 2006 and the London Triathlon in 2008 to raise funds for the Round Table Children's Wish charity.
This year, however, it will very definitely be a team effort as everyone in the office plays their part in the campaign to achieve a target of £10,000 by the end of 2010.
Sandra Imrie, practice manager at Paul Donno & Co Ltd said: "Although £10,000 seems like a lot of money, we know it is only a drop in the ocean for the hospice.
"Paul and I visited recently and were very impressed by the facilities that are available to people with life-threatening or terminal illnesses and their families."
The hospice, like all charities, has been affected by the recession. But thanks to the generosity of supporters, many from the business community, as well as the hard work and dedication of staff and volunteers, the organisation has been able to meet challenges head-on.
As well as the inpatient Sylvan Ward, the community hospice team is supporting more than 300 people and their families in their own homes at any one time.
The fund raising has already kicked off with a contribution of £150 which the company has donated to the hospice instead of sending Christmas cards to their clients in December.
A further £25 has been donated by the account manager of the firm which manages the Paul Donno & Co Ltd website – Practiceweb – with the home page now carrying the Just Giving link as another way of raising funds.
Events already scheduled in for the year include accountant Michael Ford taking part in the Sudbury Fun Run on Good Friday, April 2, and Paul Donno attempting the London Triathlon for the second time on August 7.
Other events which are still in the planning stage include a team golf day in June, female employees taking part in the Girls Night Out event in September and a go-karting evening in October.
The company also hopes to raise money through offering free credit checks for clients and passport application signing for existing clients, who have been with the company for three years or more, in return for a donation to the fund.
The team at Paul Donno & Co Ltd will be working closely with Abby Hunt, hospice corporate fund raiser, who said: "We are delighted that Paul Donno & Co has decided to support the hospice in such a fantastic way.
"Aiming to raise £10,000 in the next year is an ambitious target but one that will make a real difference to everyone who is supported by the hospice."
If you would like to find out more about the events that are being organised, take part in an event or have ideas for an event please contact Sandra Imrie on 01787 281688, visit the website: www.pauldonno.co.uk or visit justgiving.co.uk/paul-donno to make a donation.
* Our picture shows the Paul Donno team ready to take on their fund raising challenge - Michael Ford, Beverley Ballard, Sandra Imrie, Paul Donno and Jackie Thompson.

Comment on this story
[board listing] [login] [register]
You must be logged in to post messages. (login now)