Alan's new role proves children keep you young
Wednesday, 1st December 2010.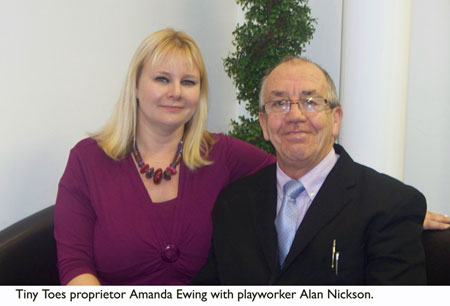 At 63, Alan Nickson is staying young at heart by working at a childcare centre in Haverhill.
Alan, who lives in Haverhill, has completed a level two Playwork qualification through West Suffolk College and is eager to start the level three.
Alan is a playworker at Tiny Toes Childcare Centre in Haverhill, helping with after-school and holiday clubs at the centre as well as driving the minibus to take children to and from local schools.
Amanda Ewing, proprietor of Tiny Toes, encouraged Alan to complete the level two Playwork course, which he needed in order to work with children.
Alan was very nervous about taking on the course as he had not studied for several years. At first, he doubted his own abilities.
Now, he says: "Since starting work at Tiny Toes, I have been on several courses including safeguarding children, minibus driving, food safety and paediatric first aid. The biggest challenge was the Playwork NVQ. The individual support and encouragement that I got from my assessor at West Suffolk College was invaluable.
"I hugely enjoy working with children, and learn a lot from them. I now find that I view children differently outside work, and I am a lot more tolerant and understanding of them."
Amanda said: "Alan is a natural with the children. His age is not a negative factor as he brings life experience to the job, as well as patience, loyalty, reliability and accountability.
"I also value having a man on the team, which is predominantly female.
"Alan is very good at talking to the parents, listening to them and understanding their personal situations.
"I have seen a big change in him personally since he has been on the course. He has become a better listener and is more able to think outside the box."
Marion Crissell, senior work-based learning co-ordinator early years, said: "The funding has enabled Alan to progress in a totally new career which he is thoroughly dedicated to and really enjoys. He has worked hard and achieved so much, proving that you're never too old to learn new skills."

Comment on this story
[board listing] [login] [register]
You must be logged in to post messages. (login now)