Alice's Adventures in Wonderland at Haverhill's East Town Park
Tuesday, 16th June 2009.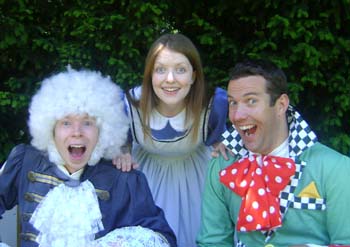 Cambridge Touring Theatre's performance of Alice in Wonderland will be appearing at
East Town Park
, Haverhill on Sat 27th June from 5-7pm.
This vibrant family theatre company, bursting with energy and enthusiasm takes to the road for the seventh successful year with its lively and often hilarious performance of 'Alice's Adventures in Wonderland'.
Cambridge Touring Theatre performs fun family theatre at some of the most picturesque spots in the country. Actors sing, dance, steal your sandwiches and spray you with water. What more could you want!
This year, Cambridge Touring Theatre also launches a programme of drama workshops aimed at 5-12 year olds which run alongside the performance. These last 45 minutes and actors work with the children on the story of 'Alice', taking them through some of her adventures in Wonderland.
Written in 1865 by Lewis Carroll, the story follows the adventures of Alice as she travels through a remarkable world, where she meets strange and curious creatures.
There is Alice, White Rabbit, Dodo, Duck and Daisy, as well as the Duchess, the Queen of Hearts, the Cheshire cat and the Mad Hatter. In addition, a smelly ferret seems to have escaped from a previous show! The company promises a strange and curious world inviting the public to bring a picnic and put your feet up!
This group of dedicated performers is headed up by Rosie Humphreys who moved to Cambridge after working for the English National Opera in London.
"We have a very strong family feel to the company", she says. "All performers are chosen because they enjoy working with families. We are going from strength to strength".
Press Quotes
"…lashings of audience participation… enormously energetic strong cast… a wonderful performance"
East Anglian Daily Times
"Rip-Roaring and bursting with fun – this company charge the air with comic invention"
Eastern Daily Press
"has families rolling around their picnic mats with laughter."
Cambridge Local Secrets
"Great family entertainment."
Agenda
"It's a great ensemble piece, every one of the players contributing 110% to an archetypal British experience."
The Stage
Cambridge Touring Theatre
Performance Schedule, AIW 2009
Sat 27th June, 5-7pm
East Town Park
, Haverhill
Box Office: 01440 714140
www.haverhillartscentre.co.uk
Tickets: Ad £7.50/Conc £5.00/*Fam £20.00
E-Mail Link: info@cambridgetouringtheatre.co.uk


Comment on this story
[board listing] [login] [register]
You must be logged in to post messages. (login now)