An illustrious opening for Haverhill Business Exhibition
Monday, 20th February 2006.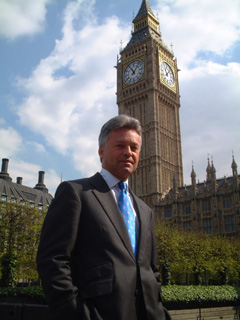 Alan Duncan
It's official! Alan Duncan, Shadow Secretary of State for Trade and Industry will be opening the 5th Haverhill Business Exhibition on Friday 24th March 2006 at the Haverhill
Leisure Centre
. The Business Exhibition, which is being organised jointly by Haverhill Chamber of Commerce and Haverhill Enterprise 2000, will run from 24th to 25th March.
Mr Duncan, Rutland and Melton MP, has had an active career in politics. His many roles have included Shadow Health Minister in 1998, Shadow Trade and Industry Spokesman in 1999, Shadow Foreign Minister in 2001, Shadow Secretary of State for Constitutional Affairs in 2003 and Shadow Secretary of State for International Development in 2004. After the 2005 General Election, Mr Duncan was promoted to the Shadow Cabinet as Shadow Secretary of State for Transport.
Mr Duncan has recently added his name to the new campaign, Climate Change Now. The campaign is a drive to encourage households to switch to renewable electricity providers. By individuals acting collectively, action can be taken to protect the environment from climate change.
Paul Donno, Chairman of the Haverhill Chamber of Commerce and Industry commented, "We are thrilled to have Alan Duncan to open the Haverhill Business Exhibition. His experience of industry and business, both within his political career and prior to it, means he has a real understanding of what enterprise is about. We look forward to welcoming him to Haverhill and showing him just how strong the
Spirit of Enterprise
is within our business community."
A number of companies have already reserved their places at the Exhibition, including Aqua-Tech, Breeze Business Solutions, FSM, Printwise, Pure Energy Multi Media, Solutions in Recruitment and WS Networks, who will be providing Broadband Internet access for exhibitors who require this facility.
Terry McGerty of Printwise (Haverhill) Ltd explained why his company thought they should be represented at the Exhibition. "This is an ideal opportunity for us to show people what we do at Printwise. Our expertise in terms of staff, technology and equipment ensures that we can offer clients so much more than just a simple print job. We have a dedicated design department; digital and lithographic printing capability and can produce a wide range of binding and finishing. We want to showcase what we do and take the opportunity to meet people, so come along and talk to us, see what we have to offer."
Places have also been booked on the workshops being organised by Ensors Chartered Accountants. The workshops are free and cover a range of business topics critical to success, from business start up information to marketing.
To register your interest in the exhibition, as an exhibitor or a visitor, please email: info@haverhillexhibition.co.uk.
If you require more information on any aspect of the Exhibition please visit www.haverhillchamber.co.uk or www.haverhillenterprise.co.uk
For more information on the range of free workshops available please visit www.ensors.co.uk, or to pre-register for an event email: rebecca.mills@ensors.co.uk.
Ends 06.02.06
E-Mail Link: info@haverhillexhibition.co.uk


Comment on this story
[board listing] [login] [register]
You must be logged in to post messages. (login now)