Andrew in historic win
Thursday, 9th May 2002.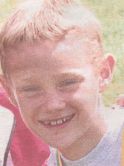 Young race walker Andrew Graham made history when he followed in his brother's footsteps to win a national championship at Don Valley Stadium in Sheffield.
Andrew, 12, of Haverhill won the under-13 two kilometre event convincingly with a time of 10 min 50 sec, with the second placed competitor well behind him at 11 min 56 sec.
The event was double scoring for the Grand Prix title, which Andrew's 40 point score enabled him to clinch. His brother Paul won the title aged 11 years in 1997, making them the first brothers to do so in the event's 30 year history.
A third Haverhill athlete, Sam McNally, also won the title in 1998.
Andrew's father Mick, who coached all three boys form scratch, said Andrew had done particularly well in a field of 28 top competitiors.
He was also doing well as a runner and would represent England again as a race walker in June against Ireland.
Mr Graham has become a top official and will be judging at the Commonwealth Games this summer.
CAPTION: Andrew Graham pictured last year.

Comment on this story
[board listing] [login] [register]
You must be logged in to post messages. (login now)