BAA Stansted Celebrates Haverhill's Business Stars
Friday, 3rd December 2004.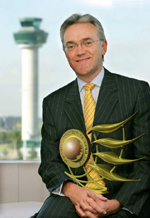 BAA Stansted has joined the group of top businesses who are sponsoring Haverhill's very first Business Awards.
The Awards initiative aims to promote innovation, excellence and achievement throughout Haverhill's business community and is open to all businesses within a ten miles radius of the town.
BAA Stansted's Communications Director, Mark Pendlington, recently delivered a presentation about the airport's next stage of development and impact on the local area, to Haverhill's Chamber of Commerce.
Jane Hammond, spokesperson for the airport said, "BAA Stansted is proud to sponsor the Best Large Business Category for the Haverhill Chamber of Commerce Awards.
"We view ourselves as a key driver in the economic success of the East of England region and as anyone serious about business will tell you, a major airport is an essential ingredient for growth and prosperity. Every year, millions of business travellers use Stansted and over £7.6 billion worth of cargo passes through the airport. Haverhill businesses have recognised the airport as a vital asset. On the Chamber's website survey, 75% of Haverhill businesses stated their belief that Stansted expansion will help their business.
"Sponsoring this award underlines our commitment to the regional and national economy, to the community and, of course, to enterprise and industry. These awards symbolise the success of the Haverhill Chamber and that of the town itself. Regeneration projects and business developments have had an immensely positive impact on Haverhill. Stansted will continue to support this progress and we look forward to building on the strong links we have with business in Haverhill in the future."
Paul Donno, Chairman of the Chamber of Commerce commented, "We are deeply gratified that BAA Stansted has chosen to demonstrate its confidence in Haverhill business by sponsoring this award. Furthermore, we are privileged to have such a prestigious range of sponsors including Haverhill companies IFF, Printwise, Haverhill Weekly News and Risk & Safety Solutions, who join Barclays Bank, Lloyds TSB, Carisbrooke Alliance and VIBE FM."
There are 12 individually sponsored award categories covering many aspects of business, ranging from business leadership, export achievement, entrepreneurial spirit and excellence in technology, the retail sector, customer service and environmental practices.
A panel of independent business specialists will carry out the judging of the awards. Award winners will be announced in the presence of some of the county's leading business professionals and regional media at a Gala Ball on May 21st 2005.
The awards are attracting intense interest from the business community and entries are now flooding in before the closing date on 31st January 2005.
Entry/Nomination forms can be down loaded from the Chamber website on www.haverhillchamber.co.uk or by phoning Jason 01440 709794 or Charmaine 01440 707717.
E-Mail Link: jason@haverhillchamber.co.uk


Comment on this story
[board listing] [login] [register]
You must be logged in to post messages. (login now)