Backroom boys produce life-changing technology
Tuesday, 5th March 2013.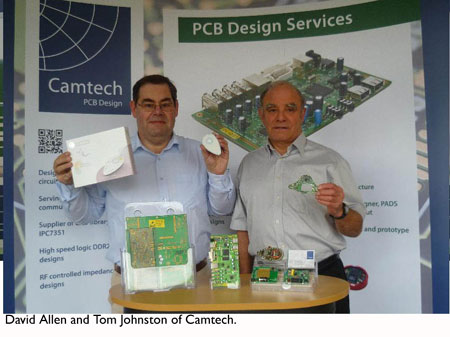 A Haverhill firm of printed circuit board designers have had a hand in 500 women becoming pregnant and one man freefalling from the edge of space.
In the tenth year of designing PCBs for a diversity of products, including some with life-changing consequences, the team from Haverhill-based Camtech PCB Designare no less passionate about their work than when they started out in 2003.
Directors David Allen and Tom Johnston have decades of experience in the field of electronics but what really sets them apart is their enthusiasm.
Happy to be the 'backroom boys' they work in collaboration with many technology companies in 'Silicon Fen' and have acquired a reputation as a trusted partner.
The printed circuit boards designed by Camtech can be found in all types of products including the Duo Fertility Advanced Fertility Monitor produced by Cambridge Temperature Concepts.
The monitor hit the headlines last year with the announcement that it had helped its 500th women to become pregnant and is being heralded as an ingenious alternative to IVF.
Cambridge-based Hildago produced the heart rate and respiratory monitor used by skydiver Felix Baumgartner in his record breaking supersonic parachute jump and is another product containing a tiny 'sliver of Camtech'.
The revolutionary AlertMe range of home security products are a further example of Camtech's involvement and expertise at the cutting edge, in this instance using low power Zigbee sensor technology.
Camtech can assist their clients with every stage of the process, from schematic capture to product realisation, library management and even prototype assembly if required.
From taking the brief and ensuring a full understanding of the clients' requirements Camtech will use the latest computer aided design (CAD) software to design the circuit board according to industry standards and then conduct a full design for manufacturing audit before the board is assembled.
David Allen said: "When we are approached by a client it is generally at the early stages of product and technology development. This is a very sensitive time and confidentiality is paramount.
"We have to contain our excitement about our involvement with these products, sometimes for several years until they are actually launched to the market! We have learnt to be very patient over the last decade.
"We are used to being in the background and just enjoy knowing that we are making a difference to people's lives through what we do.
"PCB design isn't the most glamorous job in the world but there aren't many men who can say they played a part in helping 500 women to get pregnant!"
Camtech are members of Cambridge Wireless and the Cambridge Network and play an active role in the Cambridgeshire business community.
They will be exhibiting at the Two Counties Business Exhibition which is being organised by the Cambridgeshire Chambers of Commerce and takes place on March 5 at Newmarket Race Course.
To find about more about Camtech PCB check out www.camtechpcbdesign.co.uk, call David or Tom on Haverhill [01440] 709869 or call into the Two Counties Business Exhibition at Newmarket Racecourses Millennium Grandstand on March 5.

Comment on this story
[board listing] [login] [register]
You must be logged in to post messages. (login now)