Beauty salon tops glamorous night for town businesses
Tuesday, 17th May 2011.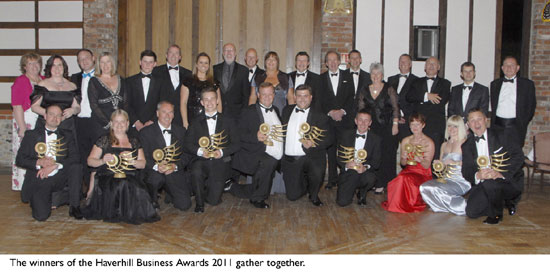 A beauty salon carried off the top award at Haverhill's glitzy 2011 Business Awards on Saturday nght.
Theresa Foddering, owner of A-Revolution Beauty Salon in Haverhill, won three awards on the night including the most prestigious title of Business of the Year.
The prestigious awards ceremony was hosted at Chilford Hall by Haverhill Chamber of Commerce and BBC1's TV Apprentice finalist Claire Young was guest speaker for the evening and also judged the Young Entrepreneur category.
She said of her time in the county: "It's certainly the glitziest Chamber I've attended - there should have been an award for the most glamorous person with so many stunning dresses!
"The preparation, attention to detail and all-round positive 'let's have a great evening' vibe on the night are a testament to why Haverhill is an area of such change, business is growing in the town and the new era is really being embraced by Haverhill's business community."
Some 250 guests enjoyed a champagne reception on arrival and Haverhill's Young Chamber were on hand to give them some pre-awards entertainment with a charity Olympic Wii Challenge which raised £101 for St Nicholas Hospice.
One of those guests was Neville Reyner CBE DL, president of the British Chamber of Commerce and also chairman of the Young Chamber.
He said: "I was not only struck by the shared community celebrating success of local businesses, but I was also very pleased to be welcomed by some young people from Young Chamber.
"Our future is in the hands of these young people and I was very proud that all were made aware of Young Chamber not only because they were there but because they explained their activities thoroughly."
After a three-course dinner, chairman Sarah Howard took to the stage to welcome the guests, sponsors and judges.
Sarah said after the event: "The awards are all about promoting Haverhill and I don't think we could have done it in a more effective way than we did on Saturday night.
"However, it wasn't just Haverhill businesses who enjoyed the night, we also had some fantastic high-profile guests from outside the town which just goes to show we are generating great interest in Haverhill and what it has to offer."
It was then time for Claire Young to run through the award winners of the night. Guests were held in suspense as each category was summarised and the nominees were announced.
The winners of the awards were:
Large business (over 25 employees) - Abbeycroft Leisure;
Retailer of the year - A-Revolution;
Export achievement - Ardex;
Young entrepreneur (aged 18-25) - Paul Gardiner of Axa Insurance;
Employer of the Year (voting category) - Axa Insurance;
Environmental awareness - Days Inn, Haverhill;
Small business (up to 25 employees) - A-Revolution;
Customer care & service award (voting category) - KAD Cars Ltd;
Best use of technology - Paul Donno & Co Ltd;
Employee of the year - Keiran Crone of Saffron Insurance;
Start-up business of the year (0-2 years) - The Best of Haverhill;
Marketing strategy of the year - Abbeycroft Leisure;
Business of the year - A-Revolution.
The judges said of the top award: "This was a very close award and particularly difficult to judge between all the outstanding award-winners in different sectors.
"However, we chose A-Revolution because we felt entrepreneurs are the backbone of this economy and this business in particular demonstrated great entrepreneurship."
With the awards completed it was time to roll up the red carpet and the floor was filled with guests dancing to the live sounds of Tangent, a seven-piece soul band.
For pictures of the night's events find Haverhill Chamber of Commerce on www.facebook.com

Comment on this story
[board listing] [login] [register]
You must be logged in to post messages. (login now)