Bernhards appoint new manufacturing manager
Wednesday, 15th October 2014.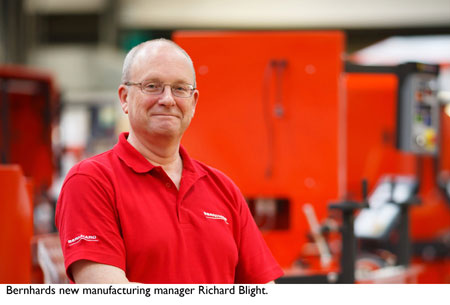 Bernhards have announced that Richard Blight has just taken over as manufacturing manager at their Haverhill factory.
The 35,000 sq ft factory, opened in 2012, is home to the design team, manufacturers of the Express Dual and Anglemaster Grinders and the training centre of the company.
The company took over the former Atterton and Ellis, one of the town's oldest companies, and with it the world's finest blade-sharpening system, which enables many top gold courses to keep their greens in pristine condition.
Mr Bright said: "My first impressions are of a great team, with some excellent products. There are some very positive people here, many who seem to have been here for their working lifetime.
"Everyone gave me an excellent welcome and I'd like to thank them all for their warmth and for the opportunity to join such a well-run company.
"I think there's a lot of opportunity to expand and satisfy both the market and our existing customer requirements. We can always be more responsive and aim to increase production quickly."
Peter Wood, Bernhard chief operations officer, said, "We are very pleased to welcome Richard to the Haverhill team and look forward to working with him.
"His wealth of experience with manufacturing and production complement very well the teams 'can do' attitude to our continually growing market."
Richard was born in a British Army Hospital in Germany and the family moved regularly to Army posts around the world.
"We lived in Malaysia, Cyprus, Malta, Germany, and many army towns in the UK. The longest time we spent anywhere in my childhood was 14 months," he said.
"I suppose if I have roots anywhere it is in Devon where I went to school. I loved it there, but have fond memories of our home on stilts in Malaysia, and views of the Mediterranean from our house in Malta. "
Richard studied mechanical engineering at Sheffield University and settled in Birmingham where he got his first job as a software engineer with Lucas Engineering & Systems Ltd.
He was production and general manager for a firm who manufactured specialist equipment for the broadcasting industry.
He said: "This was a time when they were changing from the analogue to the digital systems – so we were producing fascinating bits of kit that allowed the current digital revolution take place."
He went on to be appointed vice-president of operations and engineering for the French company, Alstom, based in Stafford, responsible for 19 factories around the world.
"This meant a lot of travelling and I spent one week every month in Southern India," he said. "It was wonderful to learn about different cultures, and I am glad I had the opportunity to visit so many countries.
"However, five years was enough, and I took the opportunity to move to Baldock and join Pitney Bowes in Harlow.
"I welcome the challenge of a new company, and hope that I can bring some of my experience. "
When he is not working or commuting to Suffolk, Richard likes to support his local community. He is the treasurer of the Baldock PCC, and also a few local charities. He takes part in local fundraising activities.
"When he can he likes to support his favourite football team Colchester United. He has two sons who are both currently at university. Together with his wife he likes walking and is responsible for the creation of a local nature reserve.

Comment on this story
[board listing] [login] [register]
You must be logged in to post messages. (login now)