Birdies help Haverhill golf pros lift trophy
Wednesday, 1st December 2010.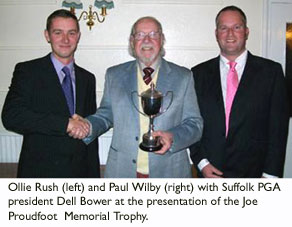 Haverhill Golf Club head professional Paul Wilby and head assistant professional Ollie Rush led the way to win the Joe Proudfoot Memorial Trophy better ball competition at Felixstowe Ferry on Wednesday, November 24.
The pair had nine birdies in their round and only dropped a shot, on the 14th, to score an impressive eight under par 64.
They finished just one shot ahead of the Fynn Valley pairing of Simon Dainty and Chris Smith with a seven under par 65.
Third place went to Kelvin Vince of Rushmere and Paul Bate of Brett Vale with a five under par 67.
The event was followed by the Suffolk PGA annual meeting at which Paul Wilby was re-appointed as chairman and as delegate to the PGA East Region. Dell Bower was re-elected as president and Andrew Sleath as vice-president.
The Ladies Turkey Trot at the Haverhill club was played over two legs during October and November.
The result for the October competition was 1 Jane Herrington with 31pts, 2 Pat Kennedy with 28pts and 3 Judy Farren with 27pts.
The result of the November competition was 1 Mary Sail with 29pts, 2 Doreen Darbey with 28pts and 3 Eileen Kiddy with 27pts.
The overall winner was Lyn Fish with 68pts, scoring a consistent 34pts in each leg.
Andy Fish shot an impressive gross one over par, nett 67 to win the November IFF Challenge.
The full results were: Division One, 1 Andy Fish 71-4-67; 2 Jonathan Moore 83-11-72; 3 Mark Stanton 82-10-72.
Division Two, 1 Martin Mansfield 88-19-69; 2 Steve Piotrowski 86-16-70; 3 Neil White 92-20-72.
Division Three, 1st Ken Johnson 98-23-75; 2 Terry Pinckney 103-21-82; 3 Derek Olive 109-26-83.

Comment on this story
[board listing] [login] [register]
You must be logged in to post messages. (login now)