Blaze Mum Tells How She Rescued Children
By Jo Deeks on Thursday, 9th September 2004.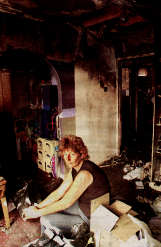 A mother has spoken of how she rescued her children from their beds and led them to safety as fire engulfed their home.
Kim Fernandez said she was thankful the family had escaped with their lives from the fierce blaze, which was fanned by strong winds on Monday night.
The fire chief who led a team of six firefighters with breathing apparatus tackling the blaze has praised her bravery in getting the children out.
Mrs Fernandez, 41, was sitting watching television in the lounge of her home in Castle Lane, Haverhill, just after 8pm when the lights suddenly went out, so she went to check on her children Melissa 8, and Harrison 6, who were sleeping upstairs.
"I saw flickering coming down the landing and flames coming from the emersion tank. I could hear the children screaming because they could not get out of their room past the fire. I ran up there, but the heat knocked me back. I was terrified with the flames there, but you just have to do it. Then Reg, my husband appeared from nowhere and he ran in and passed the children out to me. They got blisters because they had nothing on their feet and I burned my hands trying to get to them. I was screaming at my other children Rebecca, 14 and Anthony, 12, who were downstairs to get out. What shocked me most was the thought that I could have lost them all. It just went up in seconds, the heat was so intense. We think it was an electrical fault in the tank in the linen cupboard, which was full of sheets, blankets and quilts. I had all my windows open and they said that oxygen fed the fire, especially as it was so windy.
I am just devestated, i don't know what we are going to do, I have been in touch with the insurance company and I am waiting for them to get back to me. We have lost everything, we don't even have any clothes to put on. Harrison is upset bacause he has lost all his teddies, Rebecca lost all her china dolls and her hamster died. It is the little things that get to you. I am just thankful we all got out alive." Mrs Fernandez said.
Sub officer Neil Franklin, of Haverhill Fire Service, praised Mrs Fernandez's bravery in saving her children's lives. He said, "She did very well to get them out and we just dealt with the fire. We think it was probably an electrical fault and there may well have been a flash over which caused the intensity of the fire."
Mrs Fernandez, who runs her own cleaning company, is one of the leaders of the Millennium Stars Majorette troupe and others from the group, as well as her family and friends have been rallying round to help. Almost every room of the house has been reduced to a blackened mess and the fire burned through the roof.
The family have been told the house is not safe to live in and may take up to six months to renovate.

Comment on this story
[board listing] [login] [register]
You must be logged in to post messages. (login now)