Blues Supporter Will Run from Haverhill to Portman Road for Charity
Wednesday, 15th August 2007.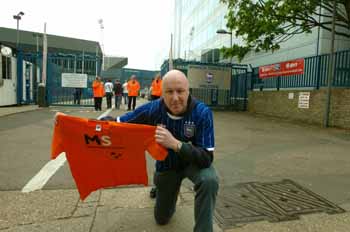 TRUE blues fans will go to great lengths to see their beloved Ipswich Town play at Portman Road. In Haverhill today, one supporter is busy in training to run 40 plus miles to get to a game and set a record to boot.
Malcolm Thompson, a North Stand season ticket holder, will be running to Town's ground from his hometown of Haverhill at Ipswich Town's last home game next season to fundraise for the Multiple Sclerosis Society.
Mr. Thompson, 45, said: "I have never done any running before apart from running to the bar at last orders. This is going to be a massive challenge for me but one that I intend to achieve. When you consider the London Marathon is a lot less distance, this is going to be some achievement for a novice with a dodgy knee, who is getting on a bit."
Mr. Thompson is a friend of Blues legend Kevin Beattie. He decided to support the multiple sclerosis (MS) charity because of the help it has given to Mr. Beattie's wife Maggie. He is aiming to raise £5,000.
He says: "Maggie is in a wheelchair now and the charity has given her great help and advice in the past, and they have a smashing website people can look at."
The plan is for Mr. Thompson, who runs a Town supporters' club in Haverhill where Mr Beattie is president, to run from Haverhill to Hintlesham the day before Ipswich's last home game of the 2007/08 season. He will then run the final eight miles on match day.
"When Kevin agreed to become President of our New Supporters Club in Haverhill, he told me that he wanted to raise funds for MS to say thank you to the Society; so this is one of many events I am trying to organise to do just that. Kevin is a lifelong hero of mine and I am proud to be able to help him.
"I hope that all Ipswich Town fans and all other football fans, along with my friends and colleagues will support me. I hope other people in the town will sponsor me too if they can. Even a few pounds will make a huge difference and mean The MS Society can continue their invaluable work supporting families like Kevin's.
"Whether people follow Ipswich Town or not, they can all help."
Mr. Thompson is hoping club chairman David Sheepshanks will welcome him, Mr Beattie and a representative from the MS Society on to the pitch after his run, just before the game's kick-off.
To sponsor Mr. Thompson, visit:

Comment on this story
[board listing] [login] [register]
You must be logged in to post messages. (login now)