Bond Car to be at Duxford's Spring Car Show
Wednesday, 30th April 2008.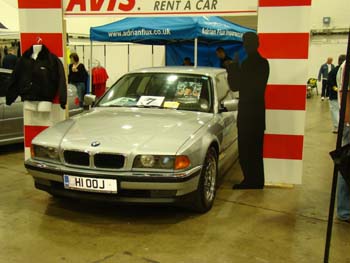 One of the stars of the show at the Imperial War Museum Duxford's Spring Car Show on Sunday 4 May will be James Bond's BMW car from the film "Tomorrow Never Dies".
Over the years, Bond has favoured a number of classic car makes in his pursuit of villains and women from Lotus and Aston Martin to BMW. One of the most memorable scenes from Tomorrow Never Dies is a car chase around a multi-storey car park with the car being driven remotely by James Bond. As the climax to the chase, Bond launches the car off the top of the multi-storey car park and neatly into the shop window of Avis car rentals.
The car appearing at the Spring Car Show is rather special, being the only surviving example from the film – the others all having been destroyed during filming. It comes with full authenticated certification and all the normal extras that James Bond likes.
Building on the success of last year's show, hundreds of cars are scheduled to attend ranging from Porsche, MG, BMW, Rolls Royce, AC Cobra and many more. The day will provide the opportunity for visitors to get up close to some of these stunning automotive classics and talk to their owners, as well as enjoying an atmospheric day at the Museum.
Says Duxford's Marketing and PR Manager Tracey Woods "This event will see hundreds of classic cars and motorcycles, representing the crème de la crème of automotive excellence, displayed at Duxford for the enjoyment of our visitors. Many of the early automotive companies such as Rolls Royce, also have historic links to aviation."
In addition, visitors will be able to feel the mighty power of the tanks and see them in action in the tank running arena as well as get a chance to take a ride in a tank. The tanks will be doing demonstrations and riding throughout the day. As an added bonus, visitors will also have the opportunity to experience flight for themselves by taking to the air in a classic 1930s de Havilland Rapide, courtesy of Classic Wings who will be operating pleasure flights from the airfield.
The whole of the Museum is open from 10 am for visitors to enjoy. Duxford is located just south of Cambridge at junction 10 of the M11. Ample free parking is available.
Admission is FREE for Children under 16, £16.00 for Adults, £12.80 for Senior Citizens and Students, and £9.60 for Concessions. Pleasure flights and tank running and riding subject to weather and serviceability, an additional charge applies. For more details call 01223 835000 or visit the Duxford website:

Comment on this story
[board listing] [login] [register]
You must be logged in to post messages. (login now)