Boundary Committee Proposals for Suffolk 'Surprising'
Tuesday, 8th July 2008.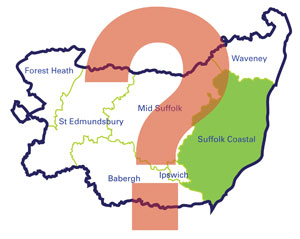 St Edmundsbury's Cabinet and senior managers say they are "extremely surprised" by the proposals put forward by the Boundary Committee for England today.
St Edmundsbury Borough Council Leader, Cllr John Griffiths, said:
"We are extremely surprised by this recommendation which if implemented, would seem to ignore the feelings of our local residents and does not present a solution for West Suffolk. This recommendation appears to take no account of people's sense of place in their own community. We have always argued for local people making local decisions. That is something we still believe in and we shall be discussing how we can achieve what's 'best for the west' in the coming weeks."
St Edmundsbury will be studying carefully the Boundary Committee's proposals which could see three of the county's major towns (Ipswich, Felixstowe and Lowestoft) split from the rest of Suffolk.
Consultation runs from now until 26 September and full details are on the Boundary Committee's website - see below. The Government is expected to make its decision in early 2009.
Cllr John Griffiths, St Edmundsbury Leader, added:
"We need to look at the proposal carefully – this would be a completely new council and we need to ensure that whatever is created is a solution that reflects West Suffolk's priorities and aspirations. We have always said that Council Tax payers have the right not only to see their money being invested in their own local areas, but also to have a close involvement in the decision-making process. We will work with everyone concerned to ensure we get what's best for West Suffolk's residents and businesses."

Comment on this story
[board listing] [login] [register]
You must be logged in to post messages. (login now)