Brave Wife Joins Run to Raise Charity Cash
By Jo Deeks - Haverhill Weekly News on Monday, 16th April 2007.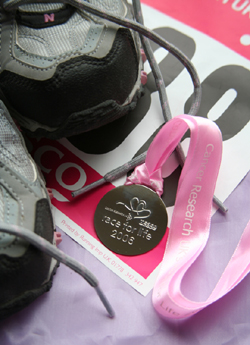 Two years after much loved dad and husband Lee Whitehead died in his wife's arms, she is putting on her running shoes to take part in the Race for Life in his memory.
Lee 32, who died after collapsing from a brain haemorrage at work, helped to save three lives by donating his organs.
His wife Siobhan was devastated by his death, but determined to carry on with life as normally as possible for the couple's daughter Tara, four.
Now she wants to help others by raising money for cancer research by attracting sponsorship for the 5k race she will join in Cambridge in June.
Siobhan's effort is even more of an achievement because she suffers from the rare condition Addison's disease which means her body produces no natural adrenalin, so that she has seriously reduced enery levels and resistance to infection.
Her mother Patricia rackham, said: "She is a very brave lady, it is something she really wants to do for her husband. It does affect her energy levels and she is on medication for life. If she even gets flu she can be quite ill with it. All the family are very proud of her."
Siobhan said: "It has been hard and we still miss Lee a lot, but I am lucky I have my daughter and she keeps me going. She has been brilliant. She still remembers him, which is great, and we have pictures around the place. I had a letter from one of the people Lee helped with his organ donations which was nice and all three recipients ar fine.
Siobhan still lives at Grenadier Road, Haverhill, the home she shared with Lee for five years. The couple both grew up in Scarborough, but had not met until Siobhan moved to Cambridge to work as a research scientist for the sanger Centre at Hinxton.
Lee who worked at WF Electricals in Cambridge, became ill two years before his death when he started having seizures and was originally treated for a brain infection before being diagnosed with two brain tumours and was also left with epilepsy.
Although he endured intensive radiotherapy, Siobhan said they knew they were on "borrowed time" and had both discussed donating organs even before he became ill. She felt very proud that by donating both his kidneys and liver, Lee had been able to save three other lives after he died at Addenbrookes Hospital.
Siobhan can be sponsored through the website below.
Story courtesy of Haverhill Weekly News

Comment on this story
[board listing] [login] [register]
You must be logged in to post messages. (login now)