Brothers' success with strings attatched
Thursday, 7th October 1999.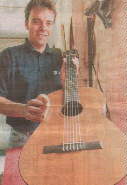 TWO brothers from Clare are celebrating seeing guitars made at their premises being played on Top of the Pops.
Graham Baker, 28, started up his own business hand-making furniture two years ago with a grant from the Prince's Trust. It went so well he moved to larger premises and brother James, 31, joined him making acoustic guitars.
As Baker and Baker in Stoke Road, Clare, they have gone from strength to strength and have just taken on their first employee.
Their latest venture, an amplified guitar, has been well received in the music industry. Recently a musician backing ex-Spice Girl Geri Halliwell's No 1 hit Mi Chico Latino played the instrument and it was also seen on the Des O'Connor Show.
"We were really pleased to see it on Top of the Pops. We have only made five so far and they have gone really well," said Graham.
"Nobody else makes a guitar like it, it is completely different to what anyone else makes."
Picture Caption: Major success . . . Graham Baker with one of the acclaimed guitars made by the business he runs with his brother, James.

Comment on this story
[board listing] [login] [register]
You must be logged in to post messages. (login now)