Building work starts on £1m new Catholic church
Friday, 6th May 2011.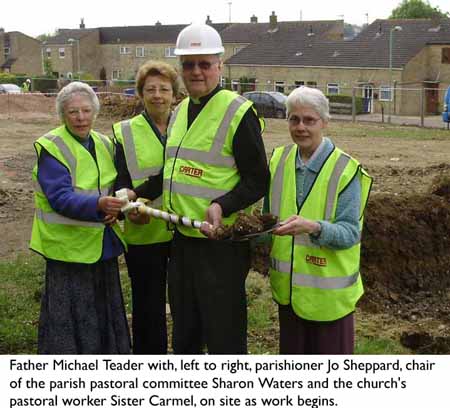 The first purpose-built Catholic church to be built in Haverhill is going ahead following ten years of fund raisinmg and seven years of detailed planning.
Contractors have started on the site in Princess Way, and this morning parishioners led by parish priest Father Michael Teader gathered to launch the work.
The parishioners have raised around £850,000 so far towards the £1m project and the Roman Catholic Diocese of East Anglia is providing a loan to cover the difference.
This enabled work to begin on Tuesday on the site next to the current temporary building which has stood since 1965.
The congregation has grown dramatically in recent years, p[articularly thanks to an influx of immigrants from a variety of communities throughout the world.
Father Teader said this morning: "It is the culmination of more than seven years of hoping, praying and fund raising, so today is a very important day for the St Felix community, as well as the town.
"We are on our way to having a church fit for worship and facilities and a meeting space to share with our neighbours.
"We are indebted to hundreds of groups, trusts, religious orders, individuals, councillors and firms who have all donated funds and especially to the parishioners and committees for their tireless efforts."
Architects to the project, NPS South East Ltd, said they were pleased to have been commissioned to design the exciting project and now looked forward to working with contractor NPS Group to produce a finished building which will become a focal point in the community.
The new church is set for completion in the early spring of next year and is of a modern design, featuring a round central tower, and will seat 350, compared with the current church capacity of 280.
The current church will remain in use until the new one is built.
A dividend of the build for neighbours will be much-increased car parking which will ease congestion in the area during service times.

Comment on this story
[board listing] [login] [register]
You must be logged in to post messages. (login now)