Bulldoze Queen's Square, urges businessman
Friday, 16th October 2009.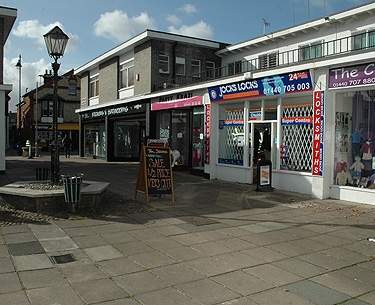 One of Haverhill's leading businessmen has urged that Queen's Square and the north side of Queen Street be bulldozed as soon as possible.
Richard Herbert, chairman of Haverhill Enterprise, the group which organised this week's business exhibition, declared this dramatic idea a main aim of the group, during his remarks at the opening of the exhibition.
With planners, councillors and many senior business representatives present in his audience, Mr Herbert said although we now had Tesco, refurbished Sainsbury's and Iceland, there were still a wide variety of shopping categories which were not present in the town.
"We know what we want next," he said. "We would like to see Queen's Square and the north side of Queen Street bulldozed. Get out the ball and chain and knock it all down, and then get some business to take the area on."
Mr Herbert pointed to the display from the Museum of Computing History in the town, present at the exhibition, and asked people to cast their minds back to what Haverhill was like in 1979, when the earliest exhibit there had been made.
"Someone recently told me they knew of no town which had changed so much for the better in the last decade or so," he said.
Mr Herbert expanded his view after the exhibition opening, saying he was expressing his hopes for the next ten years. But he added he was sorry St Edmundsbury Council had made Queen Street part of a conservation area, saying it was no different to numerous streets in any other town in the country.
The rear of Queen Street's north side has recently been exposed unflatteringly to view from the vantage point of the new Tesco.
* Our picture shows Queen's Square, which Haverhill Enterprise businessmen would like to see demolished.

Comment on this story
[board listing] [login] [register]
You must be logged in to post messages. (login now)