Bumper week of results from Haverhill Golf Club
Wednesday, 27th July 2011.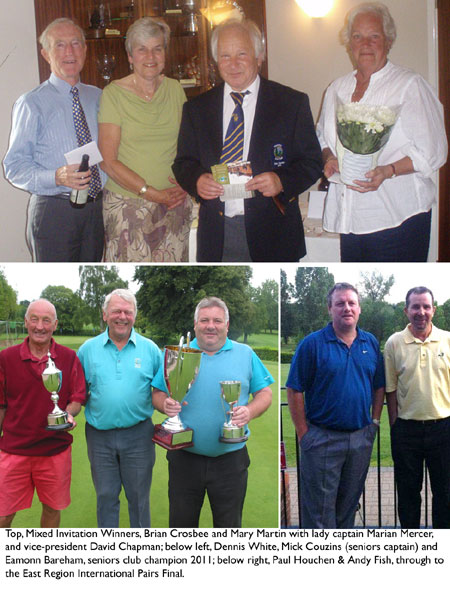 The men's midweek medal was played on Wednesday July 13. Some great scores were returned, but the overall winner with a nett 65 was Chris Mellings, and as a result he has had his handicap cut by a shot to 19.
The full results were: Division One, 1 Robert Rudge 76-10-66; 2 Michael Perrett 77-10-67; 3 Lewis Whiting 75-8-67.
Division Two, 1 Chris Mellings 85-20-65, 2 Trevor Broomfield 82-16-66; 3 Aaron Tokley 84-16-68.
Division Three, 1 Peter Deane 95-24-71; 2 Barry Shuter 95-22-73; 3 Peter Amies 96-23-73.
On Thursday, July 14, the Men's Stableford was played and Robbie Rudge surpassed his performance the previous day where he scored a nett 66, and on this occasion he won the overall event with 46pts.
As a result Robbie has had his handicap reduced by three shots in two days to seven. The full results were: Division One, 1 Robert Rudge 46pts; 2 Paul Bartlett 38pts; 3 Neil Farlie 37pts.
Division Two, 1 Aaron Tokley 40pts; 2 Keith Miller 39pts; 3 Lyndon Brown 37pts.
Division Three, 1 Brian Johnson 32 pts; 2 Gary Currel 31pts; 3 Ian Dobbie 28pts.
The second round of the Stenson was played away at Felixstowe on Saturday, July 16. In extremely windy conditions, Haverhill battled through the morning matches to find themselves in contention with the hosts at lunchtime.
Unfortunately during the afternoon, and some of the worst conditions many of the golfers have ever played in, Felixstowe capitalised on the home advantage to secure the overall win 7½-4½.
The result of the morning matches were: (Haverhill team first) Dave Quinney & Jack Warwick won 3&2 against Billy McLeod and Jimmy Price, Chris Vince & Lewis Whiting lost 7&5 against Matt Stockdale and Mark Fosker, Andy Fish & Eamonn Bareham lost 3&2 against Mel Pipe & Toby Spink, Craig Sisson & Andy Bareham won 2& 1 against Paul Waring & Nigel Fosker.
The afternoon singles match results were: Quinney lost 2&1 against Macleod, Vince won 2&1 against Stockdale, Whiting lost 6&5 against Fosker, Fish won 3&1 against Price, Andy Bareham finished all square against Waring, Warwick lost 5&4 against Spink, Sisson lost 4&3 against Pipe and Dave Whiting lost 6 &5 against Fosker.
Haverhill's Mixed Invitation was held on Saturday, July 16. The format was pairs, better ball, stableford and the results were extremely close with the places being decided on count back.
The overall winners with a score of 39pts (on countback) were Brian Crosbee and his guest Mary Martin. In second place was Haverhill's president Chris Briggs and his guest Celia Pearson with 39pts (on countback) and in third place also with 39pts were Doreen Crosbee and her guest Peter Martin. Mary Martin won nearest the pin on the eighth.
Captain's Day was held on Sunday, July 17, and a large field of 100 members from all sections of Haverhill Golf Club took part in the stableford event.
Despite being played off a handicap allowance of 7/8th, some good scores were returned and the full results were: Men's low division, 1 Michael Perrett 39pts; 2 Charlie Hudson 38pts on countback from 3 Mark Barrett with 38pts.
Men's high division: Nigel Taylor 39pts; 2 Mick Harrington 38pts; 3 Derek Olive 37pts.
Ladies, 1 Doreen Darbey 32pts, 2 Jane Herrington 30pts, 3 lady captain Marian Mercer 29pts.
The golf was followed by a carvery meal, raffle and auction to raise funds for the Captain's Charity, Alzheimer's. Haverhill's club captain, Keith Brown, thanked everyone for taking part, their generous support, and making the day a great success.
The Ladies July Stableford was played on Wednesday, July 20, and Saturday, July 23. The overall result was very close with the top three places being decided on countback.
Winning with a score of 33pts on countback was lady captain, Marian Mercer, from second place Karen Wilby with 33pts on countback from third place Ann Thompson also with 33pts.
On Thursday, July 21, 'The Shrubberies', the second major in the ladies golfing calendar was contested. The format is a drawn pairs better ball stableford.
The winners, Carol Gardner and Jane Herrington combined perfectly to scoop the prize with an amazing score of 45pts, four points clear of their nearest rivals. In second place were Chris Grainger and lady captain Marian Mercer with 41pts on countback from Ann Thompson and Linda Macfarlane also with 41pts.
Haverhill's Andy Fish and Paul Houchen won their match on Sunday, July 24, to qualify for the East Region final of the Golf Frontiers International Pairs Matchplay tournament.
The match was very close throughout with the Haverhill pair going one up on the fourth with a birdie. Their opponents James Temperley (7) and Jim Temperley (11) from Caddington Golf Club near Luton managed to keep the match within a hole until the 18th when Paul and Andy won the 18th to finish 2up.
They now go onto compete in the regional final at the DeVere Wokefield Park, Berkshire on September 12, hoping to reach the national final at Wychwood Park in Cheshire at the end of September.
The juniors played in the Waddup Windows medal and stableford event on Monday 25th July. Some great scores were returned and the results of the medal competition were: 1 Ellis Brown 81-13-68, 2 Daniel Bentley 90-21-69, 3 Ollie Fish 98-27-72 on countback.
The results of the Stableford competition were: 1 Louis Martin with 43pts, 2 Ben Bradnam with 42pts and 3 Ollie Stevenson with 34pts on countback. Ellis has had his handicap reduced by 1 shot to 12, Louis has been cut to 33 and Ben by 2 shots to 34.
Eamonn Bareham seized the Scratch, Chris Briggs Trophy and Handicap, Paul Wallace Trophy to win the double in the Seniors Club Championship on Tuesday, July 26. After a tremendous round of golf, with a gross score of 71, six shots clear of his nearest rival, Eamonn's nett score of 65 was also three shots clear of the rest of the field for the handicap competition.
Winning the Veterans Cup with a score of 87-19-68 was Dennis White. Eamonn was runner up in the scratch competition last year, and he won the Seniors Club Championship back in 2009.
Haverhill seniors match results for July were as follows: on July 8 at home against Girton they lost 6-2, on July 13 away at The Essex they lost 6½-1½, on July 15 at home against Newton Green they won 6-2 and on July 22 at home against Royston they won 4½-3½.

Comment on this story
[board listing] [login] [register]
You must be logged in to post messages. (login now)