Business Awards Link with Local Hospice
By Elaine Collins on Friday, 8th April 2005.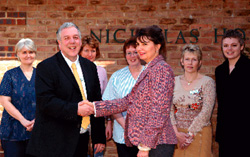 The glittering Gala Ball and Awards Ceremony for the Haverhill Business Awards is now only days away. The evening includes a champagne reception, dinner and dancing to a big band and more importantly, it has been designed to benefit St Nicholas' Hospice in Bury St Edmunds. Hosts of the Business Awards, Haverhill Chamber of Commerce, confirmed that the hospice, which provides care for West Suffolk and Thetford, will be the chief beneficiary of funds raised during the entire two-year award cycle.
Chairman Paul Donno explained: "We believe that St Nicholas' offers a service that truly makes a difference and provides the priceless help that any one of us, or our loved ones, may need one day. We are proud to be involved in helping to raise both awareness and funds."
Hospices are charities, which generally rely on the support and generosity of local people to help them achieve their aims. Their focus is to provide expert and compassionate care for those who face the end of life and for their families. The emphasis is on quality of life and each individual's emotional, spiritual and physical needs.
Charmaine Symonds, representing the Haverhill Chamber, visited St Nicholas' recently to meet patients and members of staff and to learn more about the care provided by the Hospice. Charmaine described her experience as a 'revelation'.
She said: "St Nicholas' is very much a haven of peace, respect and calm, where time and care for the individual is the most important concern. It is a place for living. It is not the house of shadows, i had imagined, but a house full of life and light.
"It was my privilege to meet Ruth, a warm and friendly lady who explained that staff at St Nicholas' have offered her the freedom to express her anxieties openly and without reservation. This release has allowed her to plan for the future. Ruth showed me that St Nicholas' is a place of affection, friendship and laughter as well as sadness.
"Hospice care is given without charge to all patients and we feel that it is vital that organisations like this are not forgotten but receive the assistance and funding they wholeheartedly deserve. We hope that through linking St Nicholas' Hospice with these awards, Haverhill's business community can help to make a difference."
The Haverhill Business Awards have been sponsored by a host of prestigious organisations, international, national and local, including Barclays, Lloyds TSB, National Westminster, BAA Stansted, Vibe FM, Genzyme, International Flavours and fragrances, Sigma Genosys, Risk and Safety Solutions, Neptune Pools, Carisbrooke Suon, Printwise, Haverhill Weekly News and Grampian Country Foods. There are twelve awards, which will be presented to finalists at the ball.
St Nicholas' Hospice will benefit from the event in a number of ways, not least the contribution of official photographers, The Design Office, who recently confirmed they will donate all proceeds from the sale of photographs to the fund.
Support for St Nicholas' will not end in May; other activities are planned to help the Hospice enjoy its 21st anniversary. These include a celebrity auction, a treasure hunt and a business celebrity calendar! But it all begins with the glittering Gala Ball on 21st May 2005. The Business Community in Haverhill is vivacious, generous and possesses a youthful optimism.
Everything is possible...
© Gold PR

Comment on this story
[board listing] [login] [register]
You must be logged in to post messages. (login now)