Business Awards Poised to Announce Finalists
By Elaine Collins on Monday, 9th May 2005.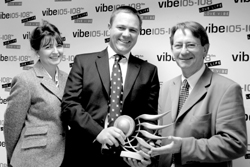 Haverhill Chamber of Commerce is set to announce the names of the three finalists, in each of the twelve categories in the town's inaugural business awards on May 12th 2005.
Over 140 nominations have been received, the judging process has finished and the town's business community is eagerly awaiting the shortlist.
Chamber representative, Steve Abbott said," We launched the Haverhill Business Awards last year to raise the profile of the town throughout the region. Our aim was to create a showcase for the best of the area's business, where the people and companies who don't get the recognition they deserve can be singled out and celebrated. We are delighted that so many companies, large and small, participated in our first year and we look forward to honouring them at the Gala Ball."
The Business Awards have attracted an impressive list of sponsors from both local and corporate organisations including the three major banks, Barclays, National Westminster and Lloyds TSB as well as BAA Stansted, Vibe FM and Haverhill Business Park. Local companies sponsoring the Business Awards include Genzyme, Sigma Genosys, Neptune Pools, IFF, Haverhill Weekly News, Printwise, Grampian Country Foods and Risk and Safety Solutions.
Paul McGurl, sponsor of the 'Environmental Award' and Managing Director of Risk and Safety Solutions, has been involved with the initiative since its inception.
He said," I've been absolutely blown away with both the quantity and quality of entries for these awards. Haverhill, often perceived as a sleepy backwater, has indeed proved vibrant and produced an absolute torrent of first class nominations.
"Entries have been submitted from sole-traders to multi-national conglomerates; all have success stories waiting to be told. I feel sorry for the judges!!!
"These awards are all about celebrating what's good in Haverhill. The unsung ambassadors for our town, those who promote Haverhill and its businesses without thought of personal gain, have given unconditional support throughout and will be there to hail all finalists at the awards' ceremony. Their time and effort in making this dream a reality cannot be over stated.
"Proud doesn't even start to describe how I feel. As a local, I've grown up with the stigma of Haverhill's undeserved reputation. Now those who once derided Haverhill will be lost in the town's shadow.
"Make no mistake, this is not a village show. Business leaders locally, regionally and nationally are focussing a lot of attention on this event. The Business Awards will help to assure Haverhill's position on the economic map of the eastern region and enhance its reputation as a business centre of excellence for the new millennium."
The highlight and culmination of the Business Awards programme of activity will be the presentation of the awards at a gala ball on May 21st at Chilford Hall. The ball will be a unique event, designed to combine the fun and excitement of a glittering black-tie awards ceremony with a celebration of all that is exceptional and admirable in Haverhill's business community. Proceeds from the ball will be donated to St Nicholas' Hospice.
Chamber enquiries contact Jason Fitzpatrick on 01440 709794
Elaine Collins

Comment on this story
[board listing] [login] [register]
You must be logged in to post messages. (login now)