Business centre aims to grow jobs for the future
Friday, 16th July 2010.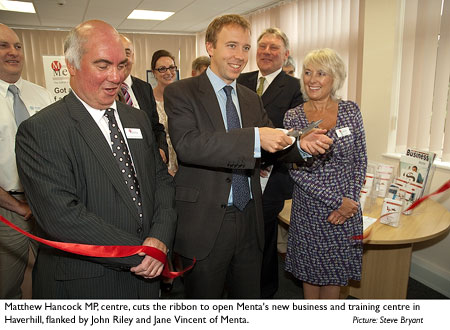 Running a business is a wonderful way to spend your life, although extremely difficult, Haverhill's MP Matthew Hancock told people gathered for the opening of a £100,000 new business and training centre in the town today.
Menta, the Suffolk Enterprise Agency, has joined forces with St Edmundsbury Borough Council to provide the centre and supported offices in the former Miller Graphics premises in Hollands Road.
The refurbished facility has cost £100,000, and now Menta is very keen to get as many people as possible using it, from businesses to community groups and the volunteer sector.
But its main purpose is to help people get started in running their own businesses, and it brings Menta's capacity in the town to 60 spaces in its three centres.
Mr Hancock said he was thrilled to open the facility because he came from a small business background.
"I well remember as a small child when my parents decided to leave their jobs and set up on their own - and some of the trials and tribulations that followed," he said.
"It is a wonderful way to spend your life, although extremely difficult."
He said there was no way in the future that employment would be driven by public sector expansion - indeed, there would be a big contraction.
"That gap has to be met and it won't be met automatically, but by people setting up their own businesses in places like this."
Mr Hancock said it was a great thrill to be Haverhill's MP because the town was on the up.
"There is a real vibe about the town," he said.
Cllr John Griffiths, leader of St Edmundsbury Council, said it was the right time to be opening such a facility.
"Haverhill is a great town and very resilient, but it is not immune from job losses," he said.
"The council has invested many millions here and helped to create, mainatin and secure many hundreds of jobs. My best wishes go to all who start their business here."
John Riley of Menta said they were very proud of this 'very special project', achieved with the help of money from the East of England Development Agency (the now-doomed EEDA), and Suffolk County Council.
"This is a great example of public and private sector partnership working together and achieving something for Haverhill," he said.
"Please spread the word to make sure it is well used."

Comment on this story
[board listing] [login] [register]
You must be logged in to post messages. (login now)