Business people see town's new sporting legacy
Monday, 19th April 2010.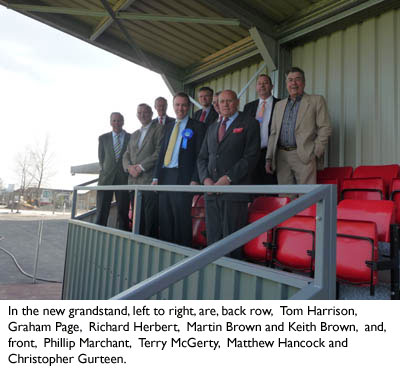 Haverhill's new football complex will be a legacy to the town for generations to come, local business people have been told.
Business group Haverhill Enterprise was being given a guided tour around the new complex, off Chalkstone Way, accompanied by West Suffolk's new Conservative candidate Mathew Hancock.
The new stadium is due to open in early May, they were told by Haverhill Rovers president Terry McGerty, who conducted the tour.
The group was more than impressed with the excellent layout and facilities on offer.
Former Haverhill Enterprise chairman Tom Harrison is the new chairman of Haverhill Community Sport Association, which is carrying out the project.
He told the business group members a borehole currently being drilled would ensure all the pitches did not suffer during any dry spell.
On offer are changing rooms for home and away teams with full facilities and back-up for all ages and genders for those interested in the sport.
"You can't help being impressed on walking around," added Mr Harrison. "This will be a legacy for generations to come."
Haverhill Enterprise then started their normal monthly meeting with Mr Hancock as their guest.
The group listened to his ambitions for Haverhill, then challenged him on several concerns the group has about the town, not least a poor retail offer and getting construction of the proposed western bypass moving.
The £2m project will deliver a new stadium for Haverhill Rovers, to replace Hamlet Croft, plus associated main pitches and practice pitches with up-to-date facilities.

Comment on this story
[board listing] [login] [register]
You must be logged in to post messages. (login now)