Busy Week for Rotary
By Haverhill Rotary Club on Wednesday, 22nd November 2006.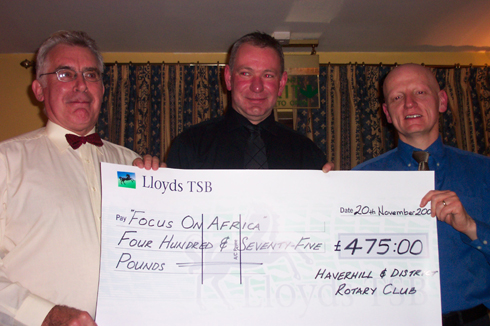 Mike Morris hands over cheque to Brian (centre) and Paul (right)
It has been a busy month so far for Haverhill and District Rotary Club, last Monday two new members were welcomed and a large cheque presented to Focus on Africa (FOA).
The first new member for induction by Club President Gareth Davis was Grant Dobinson of Polar pools, a local well-established company based in Haverhill. Grant an - ex Round Tabler - said " My reasons for joining Rotary are quite simple really, to have a bit of fun whilst raising funds for those less fortunate than ourselves through fellowship in a disciplined sort of way".
Rotary founded in 1905 and now has 1.2 million members worldwide.
The Rotary motto 'Service Above Self' probably sums-up all Rotarians aspirations.
Haverhill Rotary
club is just one of over 29000 in 160 countries.
By early next year is the Rotary target date for certification of a Polio-free world. Rotary and its global partners have immunised more than one billion children against Polio since 1985 at a cost of US$500 million to Rotary members.
President Gareth said " It is nice to see the club gain new members under my term in office, when appointed for my year in the chair one of my objectives was to increase membership, as fellowship is very important coupled with the excellent job Rotary does worldwide as well as in the local community".
Another local businessman, Jason Fitzpatrick of
Pure Energy Multimedia
, was next to be inducted. As well as owning a successful digital media company, Jason is also well known for running the official town website, Haverhill-UK, [www.haverhill-uk.com], www.haverhill-directory.com and www.haverhill-news.com. These three sites underpin Haverhill's web presence.
Echoing Grant's reasons for joining Haverhill & District Rotary Club, Jason confirmed he too enjoys being involved with an organisation that gives something back to both the local community and beyond.
A cheque amounting to £475 was presented to Brian Boltwood and Paul Turner from Focus on Africa (FOA) this is a UK based charity that seeks to provide practical support in Africa. The charity was inspired by the late Peter Plumb who had been working in Africa for a number of years and who had a great heart to supply practical support and assistance in needy parts of Africa, in particular Kenya.
To date FOA have carried out a number of projects including building a playground at a nursery, digging a well, building classrooms and painting a large orphanage.
Their current major project is to build an orphanage in a remote rural area
of Western Kenya. It is a very poor area without an orphanage and so many
children either end up sleeping rough or being used as virtual house slaves.
The money donated by the rotary club will be put towards installing a water
pump so that the orphanage will have fresh running water.
Anyone wanting to find out more about the work of Focus on Africa can contact Brian Boltwood on 07718 358729.
The money raised was from a sponsored walk organised by
Haverhill Rotary
Member Mike Morris who will also be involved with Santa's sleigh, which last year raised nearly £1000 when visiting children around at their homes in Haverhill. "We will be out again" added Duncan Howlett, "this year we are starting to tour more of the housing estates stating on December 4th, so listen out for our amplified sleigh", also next year Duncan will be the first Haverhill Rotarian to become a District Governor.
If this is not enough, the members concluded the vote for next years officers, John Senior will become President, Malcolm Smith as Vice President and Chris Briggs taking over as Treasurer from Malcolm.
Rotary meet at the Hundon Plough every Monday evening for about 2 hours or so, we always like to hear from likeminded individuals and would especially like to welcome a few ladies, so if anyone would like more information then please contact, Geoff Carter on 01440 702633 (daytime).

Comment on this story
[board listing] [login] [register]
You must be logged in to post messages. (login now)