Cannabis awareness campaign across county
Thursday, 18th March 2010.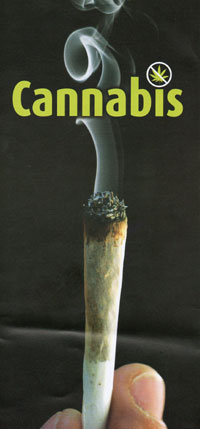 Haverhill police are taking part in a countywide cannabis awareness campaign, with leaflets being placed in stratigic places like surgeries and the library.
This month the Community Safety Partnership (CSP) launched a Suffolk-wide cannabis awareness campaign with the support and assistance
of Suffolk police.
Police will be working with partners throughout the campaign in a bid to raise awareness of the implications of using cannabis.
Safer Neighbourhood Team officers will be giving leaflets and dispensers to locations where they can be viewed by the public, such as doctors' surgeries, community centres, youth clubs and other similar venues.
Officers will also be available to discuss any cannabis or drug-related issues members of the public might have.
The police are also appealing for people to disclose any information they may have about cannabis factories and are asking landlords to stay alert to the tell-tale signs. In 2009 police
discovered 13 cannabis factories across Suffolk.
A guide for landlords, Keeping Illegal Drugs Out Of Rental Properties, is available from Suffolk Police, which outlines how property managers, landlords and owners can work with police to tackle this issue, preventing problems both for themselves and local residents.
It encourages landlords to look out for signs, such as strong odours, modifications to the home, blacked-out windows, strong lighting or ducting tubes as well as other possible indicators such as a willingness to pay cash in advance for rent and an unwillingness to grant access to the property.
Det Ch Insp Steve Mattin said: "When criminals operate out of rental properties it can lead to
damage, loss of rent, possible toxic contamination, risk of fire or flood and reduction in property values as well as having an adverse effect on those living near the address."
Copies of the guide are available either via the constabulary website www.suffolk.police.uk or by contacting Robin Pivett on 01473 613863.
If anyone suspects that a premises is a cannabis factory they should contact police on 01473 613500. Alternatively, contact Crimestoppers on
0800 555 111.

Comment on this story
[board listing] [login] [register]
You must be logged in to post messages. (login now)