Captain's Drive-in attracts over 120 golfers
Tuesday, 13th April 2010.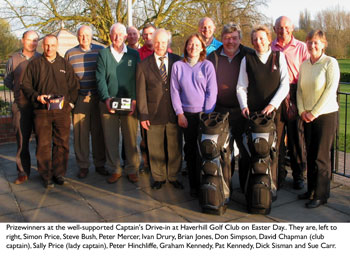 The Captainís Drive-in at Haverhill Golf Club, hosted by club captain David Chapman and lady captain Sally Price, was played on Easter Sunday and was very well supported with a turnout of 124 competitors.
In first place winning on countback were husband and wife, Graham and Pat Kennedy with 44pts. In second place also with 44pts were seniors captain Dick Sisman and Ivan Drury and in third place were Brian Jones and Simon Price with 43pts.
The longest drive for the ladies was Sue Carr and for the men, David Pipe. Nearest the pin for the ladies was Lyn Fish and for the men, Steve Bush.
The best front nine score went to Don Simpson and Peter Hinchliffe with 23pts, and the best back nine score went to Peter Mercer and Andy Gill with 21pts.
There were further celebrations for Karen Wilby who had a hole in one on the par three second hole, 112 yards using an 11 wood. The day was a huge success and the captains, David and Sally thanked everyone involved in organising the day and all those who took part.
The final of the Touchwood Cup, the winter foursomes knockout, was won by Brian Jones and Steve Piotrowski.
The pair were up against strong opposition in Dave Pipe and Dan Wilkins who were three up after 11. Brian and Steve fought back and were one up on the 15th.
The next two holes were halved meaning Dave and Dan would have to win the next hole to force a play-off. However, Brian and Steve took the prize by winning the 18th to finish 2up.
The IFF Challenge final was played on Wednesday, March 31. The wet weather conditions did not deter Trevor Broomfield, with 90-21-69, a three-shot lead over second-placed Andy Softley 84-13-71, and Haverhill junior Chris Vince finished third with the lowest gross score 77-5-72.
There was a storming start to the Winter Mixed Foursomes final on April 1.
Ted and Anna Fairhead, who were obviously not to be fooled with, dominated the match against Catie Heathfield and Peter McLennan from the off, and were five up after five. Ted and Anna played consistently for the rest of the match and won 5 & 4.
During the Easter holidays the juniors also had a couple of fixtures. On Thursday, April 8. the ĎA Steamí was played. Harvey Bavester continued his recent form by winning with 80-10-70 on countback.
In second place was Jake Graves Whiting with 89-19-70 and in third place Chris Vince with 76-5-71 (lowest gross).
On Friday, April 9, the P Franklin Trophy was played. The excellent conditions reflected excellent scores and it was another impressive win for Michael Perrett with 79-16-63. Michael has now had his handicap reduced to 14.
In second place was Liam Merritt with 84-18-66. In third place was Charlie Sigler with 85-18-67, both Liam and Charlie have had their handicaps reduced to 17.
The Haverhill Sweep Order of Merit was won by Catie Heathfield with Gordon Price second, Charlie Hudson third and ce Andy Fish fourth.
The grand final was played on April 3, for all those who entered the Order of Merit, and was won by Derek Thomas with 40pts. David Roope finished second with 40pts and Paul Donno in third with 39pts.
The ladies medal was played on Saturday, April 3, with Heather Eldred winning on countback with 97-21-76. In second place was Jackie Condon 96-20-76 and in third place Lyn Fish 102-25-77.
On Wednesday both Pat Wellstead and lady captain Sally Price were in great form with Pat just winning on countback with 104-36-68, and having her handicap reduced by two. Sally finished with 96-28-68 and has now had her handicap reduced to 26, so congratulations to them both.
On Saturday, April 10, Haverhill hosted their first round Stenson match against Felixstowe. After the morning foursomes, Haverhill were trailing 1Ĺ-2Ĺ, however Felixstowe dominated the afternoon singles matches producing a convincing win of 9Ĺ-2Ĺ, so commiserations to Haverhill Stenson captain Dennis Harkness and his team.
The Suffolk Golf Union vs Suffolk PGA was played on Sunday, April 11, as foursomes matches, with Hambro scoring. The matches were more closely run than the score would suggest, but overall the SGU managed to beat the Pros by winning 8up.
The Menís April Medal, C Darken First Leg and PGA Pro-am combined event was played on Sunday, April 11, in very windy conditions. The overall winner, who has qualified to play in the regional final at Kings Lynn with club professional Paul Wilby is new Haverhill member Andrew Martin.
The full results were as follows: Division One, 1 Robert Rudge 81-11-70; 2 Bob Spittle 78-8-70; 3 Alastair Cocks 83-12-71.
Division Two, 1 John Stokes 85-17-68; 2 Don Simpson 87-17-70; 3 Lewis Whiting 89-17-72.
Division Three, 1 Andrew Martin 90-22-68; 2 Martin Mansfield 92-22-70, 3 David Chapman (club captain) 97-25-72.

Comment on this story
[board listing] [login] [register]
You must be logged in to post messages. (login now)