Castle Manor students win county design competition
Wednesday, 25th November 2009.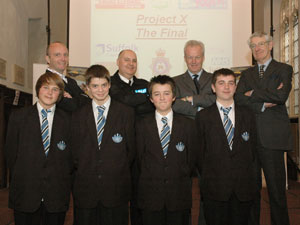 Students from Castle Manor college in Haverhill have won a countywide competition to design a new 'tackling drugs' logo.
Teams from schools all over the county took part and five were shortlisted to make their presentations to a panel of 'Dragons' in Ipswich on Monday.
The five were: Thurleston High School, Holbrook High School, Stowmarket High School, Thurston Community College and Castle Manor Business and Enterprise College.
The 'Dragons' were: Suffolk's chief constable Simon Ash, Ipswich Town chief executive Simon Clegg, successful Dragon's Den entrepreneur and chief executive of Ipswich-based compant Lifesaver Systems Michael Pritchard, and county councillor Rae Pritchard, portfolio holder for public protection and a member of Suffolk Police Authority.
After listening to presentations from each of the schools, plus firing some taxing questions at the students, the Dragons went away to deliberate.
Pupils from Haverhill's Castle Manor Business and Enterprise College were named as the winners of the competition with their concept 'Life'.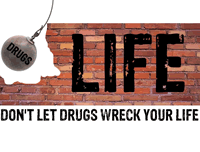 The students – Leigh Staples, Tom Hickmott, Callum Harty and Ainsley Richards - are all from year 11 at the college.
They won over the Dragons with an image of a life tower – showing building blocks stacked on top of each other.
The idea was to show how drugs (represented as a swinging wrecking ball) could lead to the building blocks of life being knocked away, such as health, prospects and relationships. The message as part of the concept was 'Don't let drugs wreck your life'.
Ian Howe, a study supervisor at the College, accompanied the students to the final. He said: "We are really proud of our four students. They have given up a lot of their own spare time to work on this project and this is a really big achievement for them.
"They took on board the feedback from the short-listing event and fine-tuned their concept and design to create a really powerful concept. They and everyone at the college are delighted."
The aim of the competition was to challenge schoolchildren aged 11-18 to design a logo and create a strap line that whenever, wherever and in whatever medium it is seen, will be immediately recognised as part of Suffolk's campaign to tackle drugs.
The winning design will be used by all partner agencies in the county and will be developed into a countywide drugs awareness campaign. £10,000 Community Cashback has been secured from the Office for Criminal Justice Reform to develop the concept.
Mr Ash said: "This is an incredibly exciting project, which we hope has given young people the opportunity to develop the messages they would like to see about tackling drugs.
"All five teams' ideas were extremely innovative and I would like to thank them all for taking part. The students from Castle Manor created a fantastic concept and we look forward to seeing the design in a countywide campaign."
* Our picture shows the winners with the Dragons - back row (left to right), Michael Pritchard, Simon Ash, Simon Clegg and Cllr Rae Leighton; front row (left to right), Ainsley Richards, Tom Hickmott, Callum Harty and Leigh Staples.

Comment on this story
[board listing] [login] [register]
You must be logged in to post messages. (login now)