Castle Partnership formalises links with St Mary's Church
Wednesday, 20th November 2013.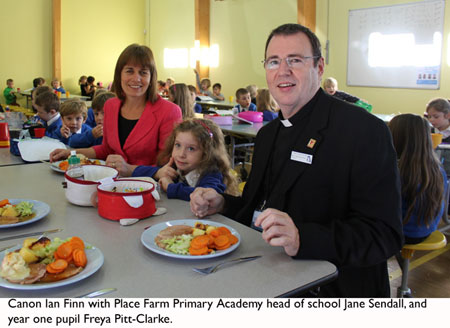 Directors of the Castle Partnership Academy Trust agreed in a recent meeting to formalise the very positive relationship they currently have with St Mary's Church in Haverhill town centre.
The academies already enjoy varied input from the church in celebrations, support with RE and by sharing facilities. This affiliation will recognise that link and ensure it is one that is built upon.
Canon Ian Finn, Rector of Haverhill and Rural Dean for Clare, has been a member of the Castle Partnership Academy Trust's board of directors since its inception and is very positive about the work the partnership does in its academies.
He said: "The church is pleased to be entering into the affiliation agreement with the Castle Partnership Trust.
"The agreement is an affirmation of the links, which already exist between the church and the partnership communities.
"We are encouraged to support the partnership by the caring ethos found in the academies towards students and staff alike."
Canon Finn attends meetings regularly as part of his work with governance, but also has the privilege of working with the student body a great deal.
He said: "The importance of developing wholeness (body, mind, spirit) of the individual student is central to the partnership's principles and is placed above purely academic excellence and school league table results.
"This, along with the high levels of pastoral care given to students and staff, is impressive, and we wish to be seen to support this ethos by our active involvement in the partnership."
This affiliation is the first formal acknowledgement of a whole range of ways in which the Castle Partnership Academy Trust engages with the local community, which is a cornerstone of the trust's principles.
Students and staff from all faiths are welcome and they encourage every member of the community to celebrate their diversity.
Madeleine Vigar, principal of the Castle Partnership, said: "We introduced the idea of taking time to reflect very early in my time at Castle Manor.
"This idea still exists in every one of our assemblies and the respect we each have for one another extends to our very high expectations.
"These aren't exclusively Christian principles, but they compliment each other very well."
It is hoped that church support through this public affiliation will encourage more church families in the Haverhill area to consider seriously sending their youngsters to the Castle Partnership academies to benefit from the high standards and broadly Christian ethos.

Comment on this story
[board listing] [login] [register]
You must be logged in to post messages. (login now)