Chamber members tour grain storage site
Thursday, 24th June 2010.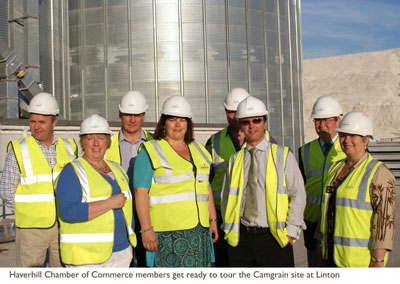 Members of Haverhill Chamber of Commerce were treated to a tour of Camgrain Stores Ltd at Linton during a networking evening on Tuesday.
Camgrain Stores Ltd is the UK's largest farmer-owned central storage business. The farmers' co-operative has 400 members and was established in 1983.
Last year, in addition to the Linton site, Camgrain opened a new £16million processing centre in London Road, Balsham.
Managing director Philip Darke showed chamber members around the site and explained how the company processes some 300,000 tonnes of grain. Camgrain supplies all Sainsbury's in-store bakeries across the UK, as well as for breakfast cereals from Nestle, and Jordans cereal bars.
Sarah Howard, chairman of Haverhill Chamber of Commerce, said: "It was fantastic to visit a company which was started on a small site with just two members of staff and has expanded to become the largest central storage facility in the UK. It is an incredible local business success story."
The next Haverhill Chamber of Commerce event is a family car treasure hunt on Tuesday, July 13, starting at The Cock Inn in Thurlow at 6pm.
Entry to the treasure hunt is open to members and non-members and is free. To book your place email suewarren@haverhillchamber.co.uk or book online at www.suffolkchamber.co.uk/haverhill

Comment on this story
[board listing] [login] [register]
You must be logged in to post messages. (login now)