Chamber of Commerce Meeting Success
By Elaine Carr on Monday, 30th October 2006.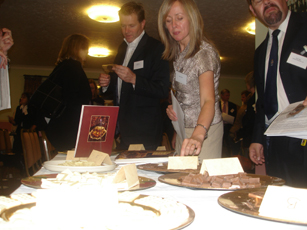 Haverhill Golf Club provided the venue for the latest Chamber of Commerce event. NatWest bank sponsored the free event, which was attended by forty business people from Haverhill and beyond.
Paul Donno, Chairman of the Haverhill Chamber welcomed everyone and gave an update on the latest Chamber news before introducing John Dugmore, Chief Executive of Suffolk Chamber. John spoke about the benefits of joining the Chamber and encouraged existing members to maximise their membership. He explained that the Haverhill Chamber is part of the British Chambers of Commerce approved chamber network, an organisation with 135,000 members. Being part of such a large organisation enables the Chamber to offer a wide range of services including Fleet Assistance, Debt Recovery and Healthcare to its members at very competitive rates. John commented, "Membership of the Chamber is about far more than just attending local networking events. We can offer our members PR opportunities, marketing intelligence information, grant searches, training, export services and of course representation – we represent the views of our members locally, regionally and nationally."
Elaine Carr from FlipFlop Marketing presented an overview of the internal marketing strategy for Haverhill, which was commissioned by St. Edmundsbury Borough Council in June. Elaine explained the objective of the strategy was to encourage local people to take a fresh look at Haverhill. "This strategy document and the resulting Marketing Action Plan look at ways in which we can promote Haverhill internally, to market our town to the people who live and work in Haverhill and the surrounding villages", said Elaine. "The marketing of Haverhill is down to all of us. In the business world the marketing of the company's offer isn't just the job of the marketing department. The same principle applies to marketing our town. If anyone has any ideas which they feel could promote Haverhill internally then please let us have them."
The audience were asked to complete a feedback form to indicate whether they liked or disliked the ideas put forward in the Marketing Action Plan. The results of the survey were to be collated and reported to St Edmundsbury Borough Council and the Haverhill Area Working Party.
The highlight of the evening was a chocolate tasting under the direction of Julie Haylock-Sherry, from The Chocolate Lady, Steeple Bumpstead. Julie captivated the audience with her humorous and relaxed style. Her talk was both highly entertaining and informative. Julie offered a wide selection of chocolate to taste and explained how we should allow the chocolate to melt in the mouth in order to experience the full flavour. There didn't seem to be much evidence of this though as the plates of chocolate were passed around!
Paul Donno, Chairman of the Haverhill Chamber said, "This was an excellent evening, well attended by a good mix of businesses, both chamber members and non-members. We covered a diverse range of topics – I think there was something for everyone. The Haverhill Chamber is committed to developing as an inclusive organisation, we welcome any suggestions or ideas people may have for future events. Working with and involving the local schools is important to us. Our photographer for this event was Rosie Darkins, a key stage five student from Castle Manor Business & Enterprise College. Rosie has done a brilliant job and hopefully she has benefited from the experience too."
If you would like to find out more about Chamber membership please visit the Chamber website www.haverhillchamber.co.uk or call Karen McGerty on 01440 707049. Details of the next event "Your Town, Your Future – What Do You Think?" taking place on 28th November at Castle Manor Business & Enterprise College at 6pm can also be found on the website.

Comment on this story
[board listing] [login] [register]
You must be logged in to post messages. (login now)