Chamber of Commerce to be relaunched in town
By Jo Deeks on Thursday, 25th December 2003.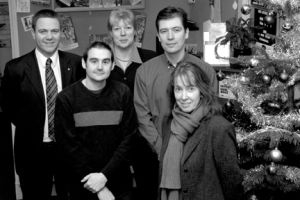 Haverhill Chamber of Commerce is being re-launched, after a gap of around eight years, to offer a strong voice for business people in the town.
Haverhill previously had a very active Chamber of Commerce like adjoining towns, and now a small team of local business people will relaunch a new chamber in February.
Paul Donno, a committee member, said: "Every business community should be able to express its views on important local issues and have the ability to have these opinions heard and understood by all the relevant agencies. These agencies make decisions, which virtually affect the profitability of businesses and thus the lives of local people. A strong Chamber of Commerce will be a focal point for all businesses in the town and can be a great support network for businesses large or small, so please register and help ensure your town is put firmly on the business map in the future."
The new chamber wants all businesses in the town to register their interest on its website www.haverhillchamber.co.uk so that the committee can measure the response and respondents will receive and information pack detailing the wide range of business benefits that membership of Haverhill Chamber will make available.
The interest so far has been good and the last Haverhill Chamber of Commerce president, Paul Cammiss from Adams Harrison Solicitors, said: "I am absolutely delighted that the chamber is resurrecting itself."
A strong link with all the local schools is important and they will be contacted to enter a competition to design the new Haverhill Chamber logo.
To register your interest go to the website or contact Jason Fitzpatrick for more information at Haverhill Chamber of Commerce & Industry, c/o
Pure Energy Multimedia
Ltd, 20 Rookwood Way, Haverhill, Suffolk, CB9 8PB, ring (01440)709794 or email: Jason@haverhillchamber.co.uk
E-Mail Link: jason@haverhillchamber.co.uk


Comment on this story
[board listing] [login] [register]
You must be logged in to post messages. (login now)