Chamber welcomes central role in LEPs
Thursday, 7th April 2011.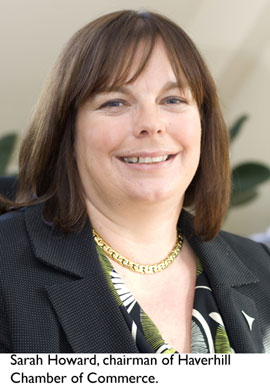 Haverhill Chamber of Commerce has welcomed news that British chambers of commerce, working with local business people around the country, will bring together a new, national network for local enterprise partnerships.
Communities and Local Government Secretary Eric Pickles announced yesterday that the new network would help ensure that businesses are the 'heart and soul' of local enterprise partnerships.
It will provide a forum for local business leaders to share ideas, solve problems and get the latest data they need to promote economic growth across the country.
The Government wants local areas to take control of their economic future. Local enterprise partnerships are locally-owned partnerships between business and civic leaders that decide local economic priorities and drive forward growth and job creation in their local communities, helping to rebalance the national economy.
They are being formed to take the place of regional development agencies such as the East of England Development Agency (EEDA) recently axed by the Government.
Haverhill, as usual, falls on the borderline of two, the Greater Cambridgeshire LEP and the New Anglia LEP made up of Norfolk and Suffolk.
David Frost, director general of the British Chambers of Commerce, has agreed to chair the new national network.
It will bring together a diverse range of local businesses, and will be inclusive of other business organisations, to tackle the big issues around local growth.
The network will aim to encourage broad participation and private sector support within local enterprise partnerships in the months and years to come.
Mr Pickles also confirmed that Government will make some grant funding available to support the network during its start-up phase.
Sarah Howard, chairman of Haverhill Chamber of Commerce, said: "I recently met with Neville Rayner, president of the British Chambers of Commerce and chair of Greater Cambridgeshire LEP to discuss our involvement with the LEP as Haverhill will be represented both by the Greater Cambridgeshire and the New Anglia LEPs.
"We are a very active Chamber of Commerce in Haverhill. Our members consider us as the voice of the town's business community and it's vital we build further links in both Cambridgeshire and the west of the county on behalf of our members."
Mr Pickles said yesterday: "British Chambers of Commerce came forward with a very strong proposal and with its existing business network across the country it is really well placed to anchor business at the centre of new local enterprise."
Local chambers and LEPs have welcomed the new network.
Peter Funnell, president of Suffolk Chamber welcomed the appointment of Mr Frost and said: "The New Anglia LEP, supported by both Suffolk and Norfolk Chambers of Commerce, will be an active partner in this work."

Comment on this story
[board listing] [login] [register]
You must be logged in to post messages. (login now)