Chambers combine for joint West Suffolk event
Wednesday, 28th September 2011.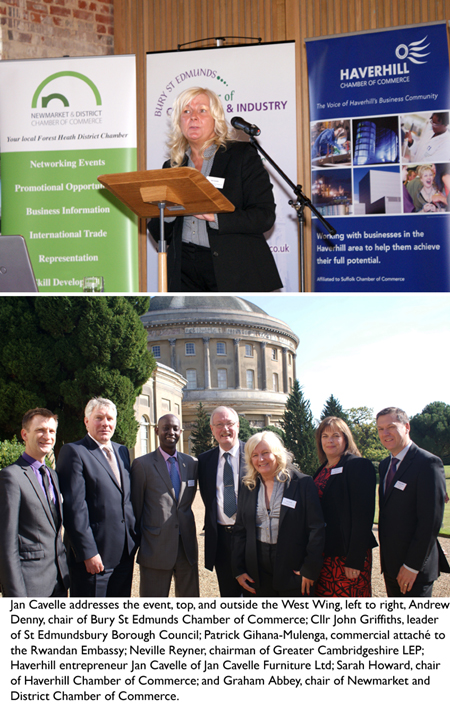 The former president of the British Chambers of Commerce was among the guest speakers at the first ever joint West Suffolk Chambers of Commerce event and the finale of the new Bury St Edmunds Business Festival last week.
Neville Reyner CBE, who recently stepped down as president of the British Chambers of Commerce, addressed the first ever joint networking event for Bury St Edmunds, Haverhill and Newmarket Chambers of Commerce, at Ickworth West Wing on Friday.
Mr Reyner, who is chairman of the Greater Cambridge and Greater Peterborough Local Enterprise Partnership (LEP), gave an update on the LEP and its planned area of work.
He was joined by Patrick Gihana Mulenga, commercial attaché to the Rwandan Embassy. Rwanda's top athletes will be using Bury St Edmunds
Leisure Centre
as their pre-Games training camp for the London 2012 Olympic and Paralympic Games next year.
Patrick told businesses how the country has moved on from the horrific genocide in the 1990s which saw one million people die in 100 days and how local businesses in West Suffolk could form partnerships in Rwanda to boost trade.
UK Female Entrepreneurship Ambassador Jan Cavelle completed the line-up of speakers. Jan runs a furniture manufacturing business in Haverhill that supplies furniture to the top end of the interior design market all over the world.
In addition, she is a UK FEA (Female Entrepreneurship Ambassador), one of 250 over 22 countries in the EU, works as an 'Enterprise Superstar' for the Eastern Hub initiative in Ipswich and has just launched Enterprising Acorns, a start-up local scheme aimed initially at the Haverhill area.
She gave an inspiring speech on how businesses can survive the recession and come out stronger the other side. Cllr John Griffiths, leader of St Edmundsbury Borough Council, closed the event and the business festival finale.
Afternoon tea and champagne was served after the event which attracted members and non-members of the three chambers.

Comment on this story
[board listing] [login] [register]
You must be logged in to post messages. (login now)