Champagne Opening for Haverhill's New Tesco!
Monday, 21st September 2009.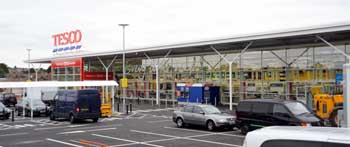 Haverhill's new Tesco superstore opens its doors next week, and will celebrate their launch with a £1,000 donation to a local charity!
Abby Hunt, Corporate Fundraiser for St Nicholas Hospice Care will be the guest of honour when the new Tesco store on Cangle Road officially launches at 10am on Monday 28th September. Haverhill Echo readers voted for St Nicholas Hospice Care to receive the donation, and Store Manager Adrian Jones will present Abby with a giant cheque for £1000. In addition, Abby will cut the ribbon to declare the new store officially open for business, and there will be glasses of champagne, orange juice and cake for the first customers!
Adrian and his team are really looking forward to the opening, and they are now on countdown to launch day! Adrian said: "We wanted to let the people of Haverhill decide which local charity was closest to their hearts, and in turn receive the donation. I am really looking forward to Abby officially opening the store on behalf of St Nicholas Hospice Care, and presenting her with the cheque."
In addition, Adrian recently took time out to receive the keys to his new store. The key handover signifies that the structural work to the store is complete, staff can start stocking the shelves and local residents can begin the countdown to opening day.
"We are all really excited and cannot wait to open our doors!" said Adrian. "We will strive to offer great value for money with fantastic customer service for people living or working in Haverhill who want a convenient place to shop for all their household and family needs."
Adrian added: "My colleagues and I are looking forward to welcoming our customers into the new store and we hope that Tesco will become a key part of the local community."
The store will offer customers a great range of products, from every day essentials to dairy, fresh fruit and veg, frozen food, and beers, wines and spirits. In addition, the store will have fresh meat and fish counters as well as a bakery, making it the perfect place to complete your weekly shop!
The new store will also provide non-food departments including clothing, health and beauty, toys, home entertainment, and a cookshop and homeshop.
The store will open its doors to customers at 8am on Monday 28th September, but regular opening hours will be from 7am – 11pm Monday to Friday, 7am – 10pm on Saturdays and 10am – 4pm on Sundays.

Comment on this story
[board listing] [login] [register]
You must be logged in to post messages. (login now)