Chance for businesses to see young entrepreneurs in action
Thursday, 14th January 2010.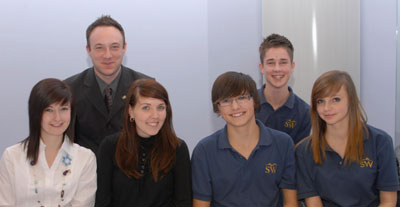 Haverhill Young Chamber of Commerce will be hosting a networking event to tell Haverhill businesses about young entrepreneurs in town.
The event will held on January 28 and will give the chance to business people in and around Haverhill to find out more about what their younger equivalents are doing.
Young Chamber of Commerce members from Castle Manor Business and Enterprise College and Samuel Ward Arts and Technology College will be updating businesses on projects they are undertaking this year and discussing ways in which students studying particular subjects and businesses in the town can work together.
There will also be a presentation by food technology teacher Daryl Heffer on how the Young Chamber set up the Bistro cafe at Castle Manor and a chance to sample the food the students have been offering.
The event, from 6pm to 9pm at Castle Manor, is a great way to network with other businesses. It is open to members and non-members of any business in the Haverhill area from those just starting out to sole traders and large companies.
Sarah Howard, chairman of Haverhill Chamber of Commerce, said: "The Young Chamber is a real success story for Haverhill and for Castle Manor and Samuel Ward.
"It was set up to promote links with business, raise aspirations and employability skills, and bring the youth voice to the fore in local issues to Haverhill.
"This year they are particularly looking for links with businesses to develop a project that enhances the specialisms of both colleges in the town and begins the move towards Young Chamber becoming self-funding."
Entry to the event is £7.50 (incl VAT) for Members and £15 (incl VAT) for non-Members. Book your place online at www.suffolkchamber.co.uk/haverhill_chamber_of_commerce/events and click on events.
For further information on this event, email kateanstee@haverhillchamber.co.uk or telephone 01799 668132.
* Our picture shows Haverhill Young Chamber - Hayley Blick, Amy Phillips-Cowell, business and enterprise specialist status co-ordinator at Castle Manor college Matt Bryant, Aaron Groom, Will Howe and Leanne Ward.

Comment on this story
[board listing] [login] [register]
You must be logged in to post messages. (login now)