Chance to relive your computer game memories
Tuesday, 13th October 2009.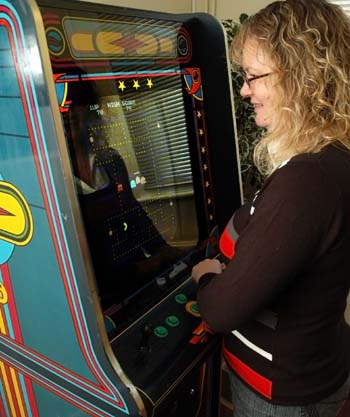 Lovers of vintage computers and classic arcade games like Space Invaders and Pac-Man are in for a rare treat at the Haverhill Business Exhibition due to be held on Friday and Saturday this week.
Haverhill's
Centre for Computing History
is putting on a special display which will range from vintage arcade machines to classic computers from the seventies and eighties, many of which have featured in recent television productions including the BBC's Micro Men.
The centre's display is sponsored by local business group Haverhill Enterprise, hosts of Haverhill's seventh business exhibition, and will trace the history and culture of video games through the seventies and eighties.
Chairman of Haverhill Enterprise, Richard Herbert, said: "In the last 30 years Haverhill has changed as much as the personal computers that were around 1n 1979.
"Our population has doubled to nearly 25,000, existing businesses have expanded and been joined by new entrants, we have new housing and infrastructure, great new leisure facilities and shopping.
"And just as by 2040 there will be computing power in every small object, from keys and cups to clothes and furniture, Haverhill will also continue to develop and grow.
"By then the Eastern Region's most enterprising town will also be Cambridge's largest satellite, but I have no doubt that we will retain the vibrancy and can-do culture that is so evident here today."
As well as demonstrating the development of the personal computer – a star exhibit will be the very first personal computer, the Altair 8800, dating back to 1975 – the centre's display will help people understand the impact of the computer gaming revolution which gave the world Space Invaders and Donkey Kong.
The
Centre for Computing History
is to display more than 200 games and offer the opportunity to play many of the most influential games - with block graphics and way out sound effects - like Space Invaders, Asteroids, Pac-Man and Elite.
The earliest game on display will be Atari's iconic table tennis game Pong, which will certainly provide a trip down memory lane for a lot of people. By the end of the 1970s, Pong had been overtaken by Space Invaders, considered by many the most influential game of all time. Dominating the industry and often described as capturing the zeitgeist of post-Star Wars America, Space Invaders proved to be breathtakingly popular. Another great favourite from the eighties and originating from Japan was the ghost-chasing game Pac-Man, while Nintendo's Donkey Kong, which introduced Mario, swept in at the end of the decade.
Dr Lisa McGerty, a trustee of the
Centre for Computing History
, said: "Although the internet has revolutionised gaming, this is where it all started. This is when people used to play games in black and white!
M/F
"Our display will demonstrate the dramatic developments in computer game production across a vast range of formats through these two seminal decades. These games were at the very cutting edge of technology in their day and spawned a multi-billion pound industry.
"We hope to convey the excitement of the era, allow visitors to reminisce over the classic games of their childhood and play once again some of the most popular games of the seventies and eighties. Our display will also offer younger gamers the chance to get their hands on some of the retro games that their parents played in their youth.
"We know that it will be the games themselves and the chance to play them that will create most excitement."
Other vintage machines on show will include Sinclair's ZX Spectrum, the BBC Micro and the Apple Lisa.
The centre's curator, Jason Fitzpatrick emphasised: "Come and discover what the world was like when phones weren't so mobile, computers were only for geeks and having a floppy disc was nothing to be embarrassed about!"

Comment on this story
[board listing] [login] [register]
You must be logged in to post messages. (login now)