Charity golf day raises over £1,000
Monday, 19th July 2010.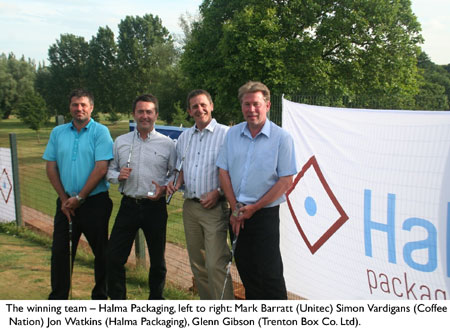 A charity golf day held at Haverhill Golf Club by local firm Paul Donno & Co Ltd as part of their 2010 campaign to raise money for St Nicholas Hospice raised over £1,000.
The event was a joint fund raiser with Gosfield School's Ecuador Team who will be going to help at an orphanage in summer 2011.
A total of £1,001.43 was raised which will be shared between the two causes.
There were 12 teams playing on the day and the competition was fierce. The winning team were Halma Packaging, with a score of 87 points.
Jonathan Watkins, MD of Halma and his team mates were presented with trophies and Ping golf clubs by Jon Sheridan, the son of the late Denise Sheridan of Clare Physiotherapy, to whom the Paul Donno & Co Ltd fund raising campaign is dedicated.
Second prize went to Percy Brown Builders with 85 points and third prize to Sarand with 84 points.
Paul Donno, the event organiser said: "We had a great day, the weather held out and everyone had a lot of fun as well as raising funds for our chosen charities.
"My thanks go to all those who took part in the competition, the companies who kindly sponsored the event, those who provided raffle prizes, Stylize Display Graphics for producing and printing the tee boards and to the Haverhill Golf Club for providing brilliant support to our players and a fantastic meal at the end of the day."
The next fund raising event is the Glemsford Festival on July 24 where the team from Paul Donno & Co Ltd will be out in force selling balloons for their balloon race.
This is part of the company's Accumulator Challenge for St Nicholas Hospice. Money raised from the Balloon Race will then help to fund the Charity Casino Evening taking place on August 18 at the Purple Mango Indian Restaurant in New England.
If you can't make it to the Glemsford Festival you can still take part in the Balloon Race, just phone Louise Craig on 01787 281688 with your details, or follow the example of local company The Design Office who made their pledge via Facebook!
If you would like to find out more about the events that are being organised, take part in an event or have ideas for an event please contact Louise Craig on 01787 281688, visit the website: www.pauldonno.co.uk or visit justgiving.co.uk/paul-donno to make a donation.

Comment on this story
[board listing] [login] [register]
You must be logged in to post messages. (login now)