Chief executive reviews Haverhill's progress
Tuesday, 17th November 2009.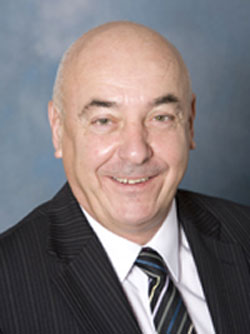 The chief officer at St Edmundsbury Council will be talking about how things are going in Haverhill at a special event next week.
Borough council chief executive Geoff Rivers (pictured) will present a yearly review of developments in Haverhill and those planned for the future at Haverhill Chamber of Commerce's networking event on Tuesday, November 24.
The free event takes place at Days Inn, Phoenix Road, Haverhill, from 6pm to 9pm and is also an opportunity for businesses in the Haverhill area to network and find out more about the benefits of joining the Chamber of Commerce.
Mr Rivers will take a look at the improvements to the town in the last 12 months including the Queen Street re-development, the opening of a Tesco supermarket and the refurbishment of Haverhill
Leisure Centre
with Abbeycroft Leisure.
He will also be outlining future developments including plans for Haverhill Business Park and the North-West Haverhill development.
Mr Rivers said: "There have been enormous developments in the town in the last 12 months which have brought great benefits for the people and businesses of Haverhill.
"One of our ambitions for the future is to help those young people who are not in employment, education or training, and I will be outlining some of the opportunities available for the community to work together to tackle this."
The event will also offer an opportunity to find out more about the Chamber of Commerce and the benefits of joining a growing organisation for businesses in Haverhill.
Sarah Howard, chairman of Haverhill Chamber of Commerce, said: "This is an annual event hosted by St Edmundsbury Borough Council which is very popular, giving businesses a unique chance to ask questions of the chief executive about issues that directly affect them. It is also an opportunity for businesses to network with others in the town."
Book your place by emailing kateanstee@haverhillchamber.co.uk , or telephone 01799 668132. The event is free for members and non-members.

Comment on this story
[board listing] [login] [register]
You must be logged in to post messages. (login now)