Children hold speeding motorists to account
Friday, 7th March 2014.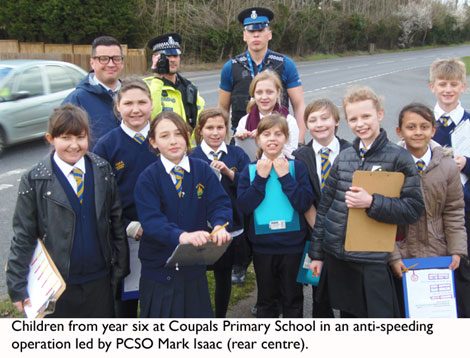 Red-faced motorists caught speeding in Haverhill this afternoon had to answer to a group of primary schoolchildren in a new police initiative.
PCSO Mark Isaac was implementing an idea which has already been tried successfully in some other places in Suffolk, of partnering up with some schoolchildren to get the message home to motorists.
PCSO Isaac and some of his colleagues joined forces with children from Coupals Primary School to carry out the operation this afternoon in Wratting Road.
Police set a speed trap at the entrance to the town and waved offenders into Churchill Avenue where a group of children were waiting to quiz them about their behaviour.
They asked if the motorist was a parent and how they would feel if their child was knocked down by a speeding motorist,or hopw they would feel if they knocked the child asking the question down.
They also asked the offenders why they were speeding and received a variety of apologies and explanations.
Of the first five offenders stopped, four were women, who all said they would be 'distraught' if they injured a child or if a child of theirs were injured.
One told them she was being very silly and fiddling with the knobs on her car radio, so had lost concentration.
Another promised not to speed again, while a man who was driving a van told the children he had been in a rush and should not have been speeding.
One woman said afterwards she was really affected by the experience. "It made me feel dreadful having to talk to them," she said. "It was a far more effective deterrent."
Organisers said the message was more powerful coming from children and the people stopped had been absolutely mortified.
The school used the event to encourage children to think about the roads and about involvement in the community.
PCSO Isaac said all offenders stopped so far had been very compliant and the operation had been a success.
They would be organising more and trying to develop the partnership with more schools.
Offenders spoken to were in the band between the speed limit of 30mph and the police waiver up to around 42mph. Higher than that they would be instantly fined or prosecuted, PCSO Isaac said.
The operation fitted in with current Safer Neighbourhood Team priorities concerning speeding at the entraces to thw town.

Comment on this story
[board listing] [login] [register]
You must be logged in to post messages. (login now)