Children overcome obstacles
Thursday, 10th May 2001.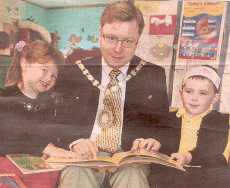 YOUNGSTERS at a Haverhlll playgroup have earned themselves a new reading area by being sponsored to tackle an obstacle course.
The children, from Happy Faces (LAMPH) playgroup, in Come Valley Road, raised an impressive £400 to fund a new soft-seating area and new books. Thirty-seven children took part in the event, which involved climbing through tunnels, scaling slides, walking over beams and Jumping through hoops. Parents were asked to sponsor children in a bid to fund the much-needed reading area, and staff at the group are delighted so much money was raised.
Elaine Hatfield, leader at Happy Faces, said:
"We were amazed at the amount we got. We've got some really good parents here, they are very supportive."
Picture : Trying out the new area Haverhill Mayor Gerry Kietnan with Megan Holmes and Reece Shulver, both aged three.
Picture: Richard Patterson 3346015

Comment on this story
[board listing] [login] [register]
You must be logged in to post messages. (login now)