Children put wildlife on their doorsteps
Saturday, 1st January 2000.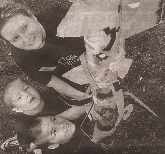 THE Wildlife on Your Doorstep project on the Clements Estate made great progress, with the help of local children.
Over three days last week they made large banners advertising the activity at Leiston Social Centre, decorated totem poles constructed out of carpet rolls and built large, colourful birds out of cardboard.
Parents and other volunteers, helped by the Suffolk Wildlife Trust and the A604 Arts Club, designed mosaics and concrete paving stones.
The mosaics will be put up on to the walls of the social centre, and the paving stones set into the grass.
Sara Winning, the project leader, said: "We had lots and lots of children, and they have been brilliant.
"They were waiting for us when we arrived each morning, and with their help we got so much done over the three days."
(Picture Caption: Pole position... Bobby Wright, 13, and Alan Wright, five, with Wildlife Trust's Sara Winning and their homemade totem pole.)

Comment on this story
[board listing] [login] [register]
You must be logged in to post messages. (login now)