Chris comes through in junior club championship
Tuesday, 30th August 2011.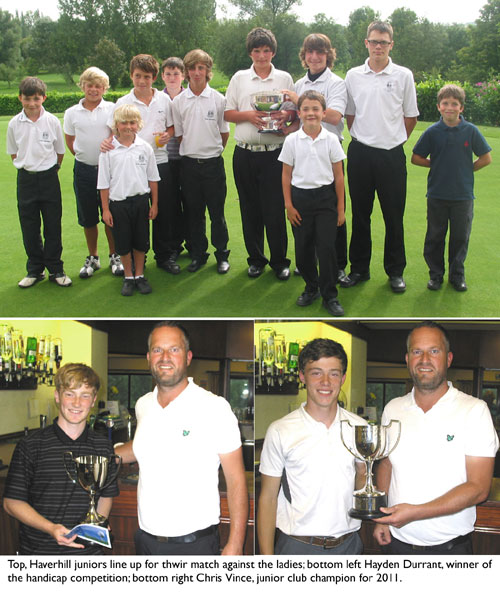 The Junior Club Championship was played at Haverhill Golf Club on Tuesday, August 23.
Considering the poor weather conditions as rain drizzled all morning and then became heavier as the day progressed, all the juniors coped extremely well in completing the 36 hole competition.
Winning the scratch competition, to become Junior CAB Edwards Club Champion for 2011 was Chris Vince with a very commendable 71+79=150, in second place was Michael Perrett 78+77=155 and in third place Lewis Whiting 81+76=157.
The handicap competition was won by Hayden Durrant with 90-23-67, followed by an excellent afternoon round of 86-23-63 to give a total nett score of 130.
Ollie Stevenson was the runner-up with a morning round of 98-25-73 and an afternoon round of 92-25-67 to give a total nett score of 140. In third place was James Higham with a morning round of 80-16-64 and an afternoon round of 93-16-77 to give an overall nett score of 141.
On Wednesday, August 24, the juniors played their match against Haverhill ladies. The format was a ten-hole stableford matchplay. There were 11 matches and it was a closely fought contest, however the juniors just had the edge by winning 6½-4½.
The IFF Challenge was played on Wednesday, August 24, and some excellent scores were returned across the divisions, however Lyndon Brown claimed the overall victory with a nett 66 on countback.
The full results were: Division One, 1 Jack Bligh 79-11-68; 2 Andy Softley 80-12-68; 3 Andy Fish 73-4-69.
Division Two, 1 Lyndon Brown 79-13-66 on countback; 2 Howard Craven 85-19-66; 3 Steve Piotrowski 85-16-69.
Division Three: 1 Paul Mowever 95-28-67; 2 Chris Powell 94-24-70; 3 Robin Grapes 100-28-72. As a result, Jack, Lyndon and Howard reduced their handicaps by one shot, and Paul Mower's handicap was cut by two.
The club hosted the Mixed Open on Thursday, August 19. The event was attended by 108 competitors representing 26 golf clubs, two of which were from the USA - Florida and Georgia.
Those teeing off earliest had the best of the weather, and some excellent scores were returned.
The prizes were: Ladies nearest the pin, Celia Twigg from Welwyn Garden City, Men's nearest the pin, Brian Runham from Menzies. The best front nine was won by Brian and Glenys Grove of Hintlesham and Newton Green with a score of 23pts and the best back nine was won by Chris Williams and Norma Humphrey with a score of 22pts.
The overall competition winners were John Daniels and Beverley Waspe from Stowmarket with a score off 44pts. In second place were Roger and Vilma Krinks from Chelmsford with 43pts and in third place Jim and Lyn Cocksedge from Windermere, Florida with 41pts on countback.
Club captain Keith Brown and lady captain Marian Mercer made the presentation and thanked all the volunteers from Haverhill including retired club manager Doug Renyard and his wife Stella, Doreen Darbey, Mick Turner and Syd Gould, who assisted with organising the event and making the day a great success.
The Ladies Stableford was played on Wednesday and Saturday, August 17 and 20. Congratulations go to the overall winner, Haverhill junior Alice Iron, with a fantastic score of 41pts.
As a result Alice had her handicap cut by two shots to 32. In second place was Mary Sail with 38pts, who also had her handicap cut by a shot to 16 and in third place was Judy Farren with 36pts.
The following day Alice Iron came first in the high handicap competition held at St Audry's Golf Club, Melton Park, with 38 points, reducing her handicap by another shot to 31.
On Saturday, August 20, non-golfers were invited to take part in the Foxes & Rabbits competition, played over two holes. The format comprised a golfer (fox) to play the shots to the green and a non-golfer (rabbit) to putt out.
The event has always been well supported, and this year a record 42 pairs took part. The overall winning team were the father and son pairing of Darren and James Higham. The winning 'Fox' was Russell Gritty and the winning 'Rabbit' was Ailie Wilkins.
Haverhill seniors' recent match results were as follows: July 28 a close match away against the Suffolk, just dipping out 4½-3½. July 29 a home match against Stowmarket resulted in a 4-4 draw and on August 2 they lost away against Towerlands 6½-1½.
On August 4 they lost 6-2 away to Gosfield, however the seniors bounced back for their home match against Braintree on August 5 with an emphatic 7-1 win. Finally, on August 12 they won their home match against Felixstowe 5½-2½.
On August 16 Haverhill seniors played their match against the juniors which resulted in a friendly draw; however, as the juniors won the match last year they retain the shield for 2011.

Comment on this story
[board listing] [login] [register]
You must be logged in to post messages. (login now)